Benefits of Dental Crowns – Marshall, TX
Enjoy a Stronger, Healthier Smile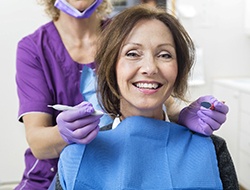 Dental crowns have helped generations of patients to enjoy improved oral health. Over the decades, the process for designing them has evolved, and materials have advanced as well. Indeed, modern dental crowns are more beautiful and functional than ever before. But what specific benefits do they provide? On this page, you will discover the answer to that question.
Aesthetically Pleasing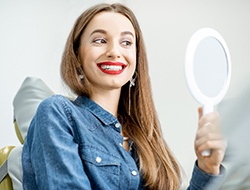 Dental crowns can be made of various materials. While the ones that are made of metal tend to stand out against their surroundings, other types of crowns blend in seamlessly with the nearby dentition. For example, Dr. Parker carefully shade matches all-porcelain crowns so they are virtually indistinguishable from the natural dental enamel. The porcelain even reflects light in a manner that is similar to that of natural teeth. Porcelain-fused-to-metal (PFM) crowns can also be quite beautiful.
A well-made dental crown can totally transform the appearance of a broken, damaged, or otherwise misshapen tooth, helping a patient to enjoy a truly lovely smile.
Chewing Support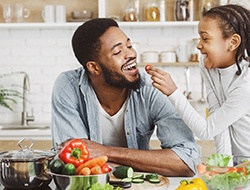 Damaged and decayed teeth do not function as well as they should. Indeed, when you try to eat with them, you may experience significant sensitivity and pain. You might even avoid certain foods. A dental crown can correct such issues. It surrounds the entire portion of a tooth that is above the gum line, thus helping it to regain its strength and its ability to help you chew practically any food. A carefully made crown can also help to bring your bite into harmony, resulting in less stress on your surrounding teeth and on the muscles that control chewing function.
Protection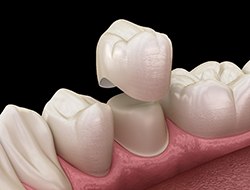 A damaged or decayed tooth is at risk of incurring further harm — unless it has a crown to protect it. A crown stops food particles and bacteria from irritating a vulnerable tooth. It also serves as a shield against hard or crunchy foods that might otherwise break a damaged tooth. The protection that a dental crown provides is truly invaluable. In fact, this type of restoration has the potential to help you keep your natural teeth — even ones that have suffered some damage — throughout your lifetime.
Versatility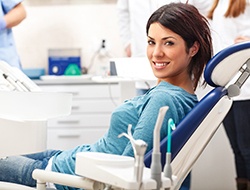 The primary purpose of dental crowns is to restore the shape and function of damaged teeth. However, that is not all they can do. When a dental crown is placed on top of a dental implant, it helps to replace a missing tooth altogether. Dental crowns can also support traditional dental bridges in order to replace lost teeth. Also, while most patients receive dental crowns to benefit their oral health, there are some instances where crowns can be used to fulfill a purely cosmetic function.
Are you in need of a dental crown, or would you like to learn more about this treatment and its many benefits? Contact the team at Marshall Denture Clinic today. Dr. Charlie Parker is an expert restorative dentist, and he is eager to help you enjoy a healthy, attractive, and fully functional smile.