Cost of Partial Dentures- Marshall, TX
How Much Do Partial Dentures Cost?
If you're thinking about getting a partial denture to fill in the gaps in your smile, cost is likely a big factor that is on your mind. While we can't give you a definitive price without actually seeing you here at the Marshall Denture Clinic, below, you can learn more about the general price of partial dentures as well as other factors that can influence the overall cost. That way, when you come to see us for a FREE consultation, you'll have a much better idea of what to expect.
Partial Denture Basics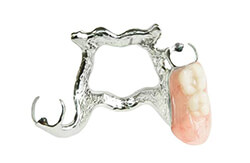 A partial denture is a type of dental prosthetic that can be used to replace one or more teeth missing along a single dental arch. Unlike a dental bridge, partial dentures are able to replace both consecutive and non-consecutive missing teeth, making them much more versatile. They basically fit into the mouth like a puzzle piece, perfectly filling in what isn't there, enabling a patient to eat, speak, and smile with renewed confidence.
Typically, they consist of ceramic teeth attached to an acrylic, gum-colored based that is supported by an underlying metal framework. To stay in place within the mouth, the denture has small clasps that loop around neighboring healthy teeth.
The Average Price of Partial Dentures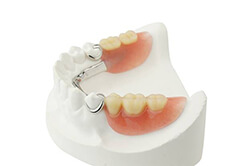 The price of a partial denture can vary quite a bit from patient to patient simply because they are always custom-made to fit with someone's unique dentition. They can be used to replace just one or almost an entire row of teeth. Because of their adaptability, a single partial denture can range from about $300-$5,000. This variance can mostly be attributed to situational factors, such as the number and location of the teeth that need to be replaced.
Other Costs to Consider
When getting a denture, you'll likely need/want to pay for other things necessary to make the procedure go more smoothly, such as:
X-rays and diagnostic images so your dentist can ensure that your dentures will have the perfect fit.
If you have any decayed or broken teeth, your dentist may choose to remove them before making your partial denture.
For extractions, you will need local anesthesia, and you can request sedation to make the process more comfortable as well.
While partial dentures are built to last, they will need periodic maintenance over time.
Dental Insurance & Financing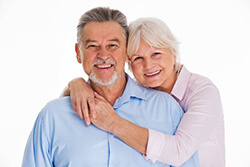 While these costs might seem daunting upfront, know that our practice offers a number of ways to help make the price of a partial denture much more affordable. If you have dental insurance, then your policy will likely cover about 30-50% of the price of the prosthetic as well as any other procedures you need related to your denture. And, if you currently do not have insurance, our practice also accepts flexible, low-to-no interest financing.
Request a FREE Consultation
As we touched on above, the numbers given here are just an average, and we can give you a definitive price when you come to see us for a FREE consultation. At this appointment, Dr. Parker will briefly examine your mouth, discuss your replacement options, go over different prices, and then we can work out the best way to make sure your treatment fits neatly into your budget.
If you're ready to finally fill in the gaps in your smile, contact us today to schedule a FREE consultation.