Marshall Denture Costs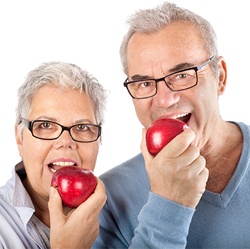 Before we get started with your advanced tooth replacement plan at Marshall Denture Clinic, a member of our team will sit down with you one on one to plan for the costs of these treatments. On this page, we'll review some general price ranges for traditional and implant supported dentures available in our Marshall dental office. However, the only way to know for sure what your denture plan will cost is to sit down with a trusted dentist to review your individual treatment plan. The first step to get this tooth replacement process underway is to call the Marshal Denture Clinic to schedule a consultation appointment with our dedicated dentist and team.
Costs of Traditional Partial & Full Dentures
A traditional, removable partial or full denture for just one plate (top or bottom) is between $300 and $5,000. If you need both top and bottom dentures, this price range doubles. There are a number of factors that impact the costs of these prosthetics, including the materials used, manufacturer, included warranties, and more. Before we begin your treatment plan, we'll review the total price and out of pocket costs of each option we provide and help you choose the best solution.
Learn More about the Cost of Partial Dentures
Costs of Implant-Retained Dentures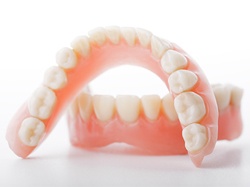 The price of one dental implant supported partial or full denture plate will range between $3,500 and $30,000. Again, if you need both top and bottom implant dentures, this price range doubles. The pricing of implant-retained dentures depends in large part on what comes with your implant denture, including the implant post material, denture material, number of implants, whether or not you receive a temporary prosthetic, warranty and maintenance plans, and more. We'll help you find the best options to deliver a flawless, functional smile that will fit your budget.
Other Associated Costs to Keep in Mind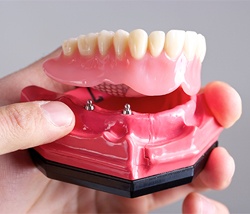 In addition to the costs of the partial or full dentures and/or dental implants themselves, you should keep in mind the following potential costs:
Preparatory tooth extractions, tissue grafts, or oral health care
Using dental sedation to ensure complete comfort
Maintaining proper fit and function with regular repairs and relines
Dental Insurance & Financing Options
Luckily, the cost of partial and full denture prosthetics is usually covered between 30 and 50% by dental insurance plans. This significantly reduces the price of your treatment. Preparatory treatments like tooth extraction and tissue grafts often receive coverage too. Unfortunately, the dental implant posts and their surgical placement are not covered by insurance policies, so that makes implant-retained dentures a little costlier. Whichever option you choose, our team also works with third party financiers to offer low and no interest financing options. This allows our patients to spread the cost of treatment across several months without accruing additional costs.