Full Dentures – Marshall, TX
A Full Row of Dazzling, Functional New Teeth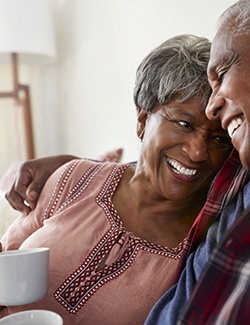 When you go through most of your life with a full set of teeth, you might not fully appreciate what you have. But once an entire arch is missing, you'll become painfully aware of how much you rely on your teeth to eat all your favorite foods and speak so that others can understand you. Dr. Charles Parker has over 30 years of experience restoring smiles with dentures that have been designed to look natural and fit as comfortably as possible in each patient's unique mouth. Contact the Marshall Denture Clinic today to schedule a free denture consultation and learn more about the process of getting a full set of false teeth.
What are Full Dentures?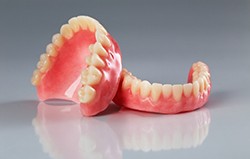 Unlike partial dentures that only replace a few teeth at a time, full dentures fill in an entire arch on your upper or lower jaw. The restoration consists of lifelike false teeth on an acrylic based that has been shaded to blend in with the gums. A denture for the upper jaw will cover the roof of the mouth while the denture for the lower jaw will be horseshoe shaped. Traditional dentures are removable, but you can also have them anchored to implants.
How Do Full Dentures Work?
At the beginning of the process, any remaining teeth are removed from the mouth, and impressions are taken of the gums. This allows our dental lab to create a prosthetic that can fit perfectly without the need for adhesive. You'll receive your dentures after a few weeks. You may periodically need to have your dentures relined if your gums change shape, which it likely will after your mouth heals from an initial extraction or after the jawbone breaks down due to a lack of stimulation.
Indications for Dentures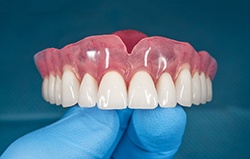 You might not think you're at risk of losing your teeth, but if 37.5 million people with full dentures are any indication, it's more likely to happen to you than you think. You may need to consider dentures if you notice any of the following symptoms:
Swollen or Red Gums: Inflammation is a common sign of gum disease. This condition can often be treated via a thorough cleaning, but if it becomes too advanced, you might end up losing all your teeth due to bone loss and may require dentures.
Loose Teeth: Even if you don't notice any swelling or pain, gum disease can still destroy the ligaments connecting your teeth to your mouth. If several teeth are loose, you could need extractions.
Missing Teeth: Of course, the most obvious sign of needing dentures is a lack of most of or all the teeth in an arch.
Constant Toothaches: If you notice severe, persistent pain in some of your teeth, they could be badly infected and might need to be removed.
Benefits of Dentures
Once you've received full dentures, you'll notice an increase in your quality of life; you'll have much fewer diet restrictions, you'll be able to speak normally after some adjustment, and of course you'll once again have a beautiful smile to enjoy. You can expect well-made, well-cared for dentures to last for a long time. Also, compared to other forms of tooth replacement, full dentures are highly cost effective.
The Cost of Full Dentures
It can be hard to estimate the true price of full dentures because the overall process will be different for everyone. Some patients might have to pay for extractions or additional relinings. Dr. Parker is here to answer your questions to make sure you understand the final cost. If you have insurance, check your benefits; there's a good chance that dentures are at least partially covered.