Dental Crowns – Marshall, TX
Renew Your Teeth's Form and Function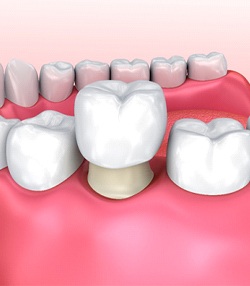 A dental crown is a treatment dentists have been using for decades to address a variety of problems. Most often, it is used to repair a tooth that has been damaged due to extensive decay or injury. It can also be used to reshape a tooth to prevent the buildup of food and bacteria on it, protecting it from tooth decay. Plus, it can be essential to helping your teeth fit together properly if they do not already. Dental crowns in Marshall, TX are one of the most reliable solutions available today, and fortunately, you can get them from Dr. Charles Parker.
What Is a Dental Crown?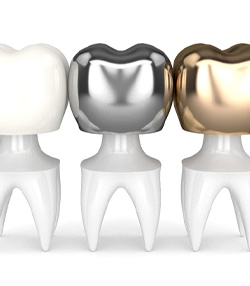 A dental crown is a type of restoration that simply fits over the top of your natural tooth like a cap. Basically, it can give you a brand new tooth. Your crown will be custom-designed to fit in well with the surrounding dentition and provide you with a comfortable bite and reliable function.
Crowns can be made from a variety of materials including metal, porcelain, or a combination of the two. The material Dr. Parker chooses to use will depend on which tooth he is restoring. The front teeth, which are seen whenever you smile, would probably be served best by porcelain (ceramic) crowns because they are the most aesthetically similar to your natural teeth. In fact, they can be specially shaded to match the rest of your smile. The back teeth need to be especially strong, so he probably will recommend a metal crown. It all depends on the needs of your teeth, as well as your personal preferences. In any case, your crown will give you a beautiful, functional smile you can rely on day to day.
Here is more information on the most popular crown materials:
Ceramic
Ceramic, which is sometimes simply called porcelain, is quite strong and durable. It is even extremely resistant to stains due to its nonporous nature. Patients who are concerned about aesthetics, as well as those with metal sensitivities, usually opt for ceramic crowns. These restorations have the potential to last for a decade or longer.
Porcelain Fused to Metal (PFM)
A PFM crown consists of a thin metal lining, which is surrounded by a porcelain outer shell. Hence, the crown offers all the strength of metal and much of the beauty of porcelain. However, sometimes the metal lining of the crown can become visible, which makes PFM crowns slightly less aesthetically pleasing than 100 percent porcelain ones.
Gold
Although several different types of metals can be used to craft dental crowns, gold is often the best choice. Not only is it incredibly strong, but it also has a very low risk of damaging the opposing teeth. And since gold is a noble metal, it will not corrode. It is even safe for most patients with metal allergies.
Who Is a Good Candidate for Dental Crowns?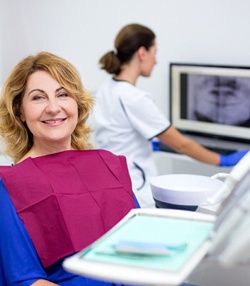 You may benefit from a new dental crown if:
One of your old crowns is broken, bent, or otherwise damaged.
One of your teeth has recently undergone root canal therapy.
You have cracked tooth syndrome.
A tooth is badly misshapen, which affects your ability to bite comfortably.
You wish to reshape a tooth for purely cosmetic reasons.
You have a large cavity, and a filling alone is not adequate to repair the tooth.
You have missing teeth (crowns can be used as part of a bridge or in conjunction with dental implants to fill in gaps in a patient's smile).
The Dental Crowns Procedure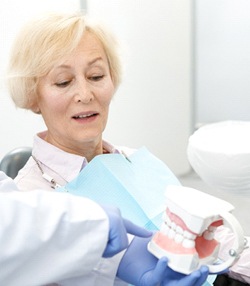 The first step to getting a crown is to make an appointment with your dentist in Marshall. Dr. Parker will examine your teeth and see if a dental crown is the right solution for your smile. If it is, the procedure involves three basic steps:
Dr. Parker will prepare your tooth so it can properly fit beneath a crown.
His team will take an impression of your teeth and send it to a local dental laboratory, which will then fabricate your crown.
You will wear a temporary crown for a while. Then, you will return to our office so our team can cement your permanent crown into place.
The entire procedure can usually be completed over the course of two appointments. Once your tooth has been fully restored, it may feel slightly sensitive for a week or so, but you will be able to trust it just like a natural tooth when you are speaking or eating.
The most common reason for dental crown failure is because the tooth beneath the crown starts to decay, so it is paramount that you stick to a good oral care routine. Consistent brushing and flossing, along with regular check-ups by Dr. Parker, will help your crown to stand the test of time.
Benefits of Dental Crowns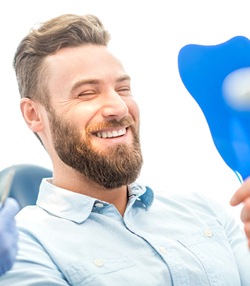 Some of the most outstanding benefits of dental crowns include:
They can save damaged teeth from extraction. Not only does this make crowns a conservative treatment, but they can also help you to save money on tooth replacement down the road.
They function like natural teeth. They are strong enough to stand up to virtually any food, and they do not require a lot of time-consuming or tedious care.
They are aesthetically pleasing. Ceramic and PFM crowns can boost your confidence by improving the overall look of your smile.
The process is easy. Parker will take steps to ensure that you are comfortable during each step of the crown procedure.
Learn More about the Benefits of Dental Crowns
Understanding the Cost of Dental Crowns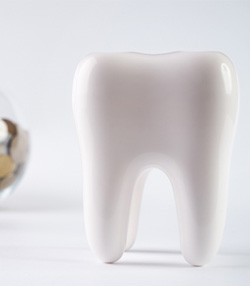 Dental crowns can be used for a variety different purposes and can be made of several different materials. With all of the variables at play, you may naturally have questions about what one suited to your needs could cost you.
We'll give you an exact estimate when we meet you in person, but before then, here's some information that can help you budget better for the treatment.
Factors that Affect the Cost of Dental Crowns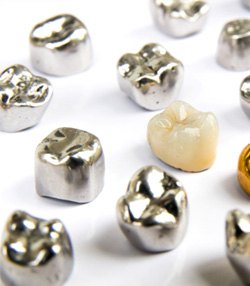 As you might have guessed, the reason we can't just tell you what your dental crown costs is because it depends on several factors. The most obvious is the material that your dental crown is made of—gold crowns, for example, are more expensive than PFM crowns. The cheapest material isn't always ideal, so the balance should be between what you need and what you can afford.
You should also think about whether your dental crown is associated with another procedure, like a root canal, that will contribute to the overall cost.
Does Dental Insurance Cover Dental Crowns?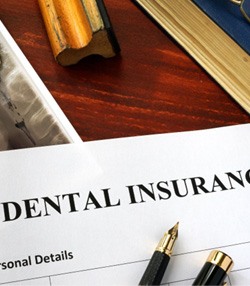 Dental crowns that are considered to be medically necessary are usually well within the realm of an insurance plan's coverage. Typically, you can expect them to pay for around 50% of a dental crowns' total cost.
However, none of this is a guarantee, so we'll have to work with your dental plan to ensure that you're getting as much coverage as possible.
If you're concerned about the cost of dental crowns, don't be—we'll work with you to ensure that you get the care that you need. Give us a call today, and we'd be happy to schedule you a consultation.