Overdentures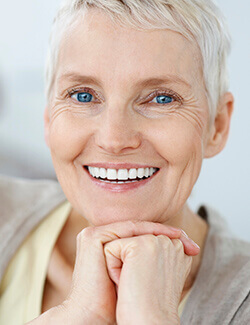 Overdentures are any type of dentures, either full or partial, that fit over natural teeth or dental implants. Attachments are placed on the natural teeth or implants and the overdenture becomes a precision-attached prosthetic. A popular type of overdenture is what we call "snap-on dentures," which uses natural tooth and/or dental implants as the foundation for the attachment, either alone or in combination with a milled titanium bar.
Among the benefits of choosing overdentures is the deterrence of bone loss, since dental implants will actually maintain jawbone integrity, a lifelike look and feel, and improved speech and chewing function when compared with other dentures.
Call today for your free denture consultation! We love to see you smile! If you're looking for quality prosthetic dentistry, look no further. Dr. Parker of Marshall Denture Clinic is waiting to serve you. Our Marshall general dentistry practice treats patients from Texarkana, Shreveport, Longview, Nacogdoches, Carthage, Tyler, and the surrounding areas.