Reclaim Your Smile with Implant-Supported Dentures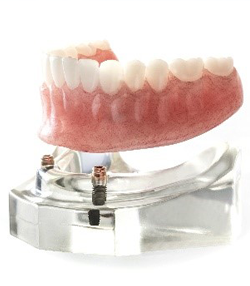 Are you missing a significant amount of teeth, and does it make your life more difficult with each passing day? Or, do you need to wear a denture, but you find yourself constantly having to worry about it slipping out of your mouth? If so, then you're in the same position as millions of other Americans right now. Thankfully, dental implants now give us the ability to create an even better denture; one that can be trusted to stay in place and give you a smile you're always ready to show off. At the Marshall Denture Clinic, Dr. Charles Parker provides our patients with beautiful, strong, and custom-made implant-supported dentures that cannot only restore their teeth, but their confidence and quality of life as well.
What Are Implant-Supported Dentures?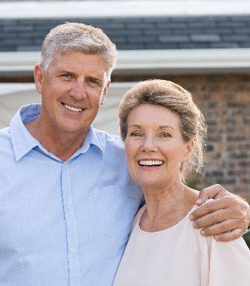 Above the gum line, implant-supported dentures are very similar to traditional ones, in that they consist of a few or many prosthetic teeth attached to a gum-colored based. What differentiates them is how they are held in place. Rather than clipping onto other teeth or sitting on top of the gums, implant-supported dentures are anchored directly to the jawbone using multiple dental implants.
The implants are placed into the jaw to mimic the structure of lost tooth roots, and then they are topped with connector joints that a denture simply snaps onto. This creates a prosthetic that is much closer to nature than your typical denture, which provides a more reliable and comfortable solution to tooth loss.
The Advantages of Implant-Supported Dentures
More and more patients are choosing to get implant-supported dentures as opposed to removable ones for a multitude of reasons: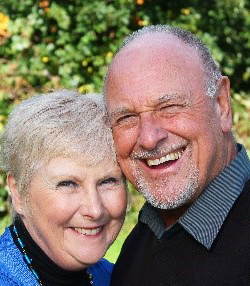 Stronger Hold: Because the denture itself is directly attached to the jawbone, there is less of a chance of the denture slipping and sliding around the mouth compared to a regular one.
More Consistent: Dental implants actually help keep the jaw supported and prevent bone loss, which in turn will help the denture keep its day-one fit for much longer.
Better Bite: Implant-supported dentures enable a patient to have a much stronger bite force compared to your typical dentures, allowing them to enjoy a much more varied and healthy diet.
More Comfortable: Dentures meant to replace the upper teeth usually have a hard plate that sits against the roof of the mouth to add stability, which can make them quite awkward to wear. Implant-supported dentures don't need this, supplying a complete restoration using a much smaller prosthetic.
No More Adhesives: Denture adhesive is messy and often leaves a very bad taste in patients' mouths, but with implant dentures, it's no longer needed and can stay safely tucked away.
How Can I Get Implant-Supported Dentures?
If you would be interested in getting implant-supported dentures, your first step is to make an appointment with the Marshall Denture Clinic. Dr. Parker will evaluate your dental health and any current dentures you are wearing before determining if you are a good candidate for the treatment. If you are, then he can handle the entire procedure from start to finish, from implant placement to the day you actually receive your new teeth. The total treatment time can vary from person to person, and there are different kinds of implant dentures to choose from. You and Dr. Parker can decide on which one is best for you.
In the end, implant-supported dentures allow people to get their life back, one where they aren't constantly worried about their dental prosthetic. With one, you'll be able to eat, speak, and smile with ease, and the absolute last thing on your mind will be your teeth. To learn more about implant-supported dentures and how you can start getting them today, please contact us for a consultation.