Dentures – Arkansas
Secure, Long-Lasting Tooth Replacement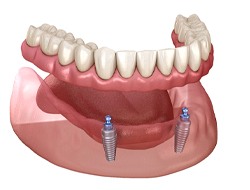 Dr. Charlie Parker of Marshall Denture Clinic has decades of experience in helping people restore their lost teeth. Dental technology has evolved much throughout his career, and he is proud to offer a truly modern solution to his patients: implant-retained dentures. Increased self-confidence, improved chewing power, and optimized oral health are just a few of the benefits that you can enjoy when you receive a custom, implant-retained denture near Arkansas. If you would like to learn more about this innovative tooth replacement solution, contact us to ask questions or schedule a consultation with Dr. Parker.
How Can We Improve the Fit of Your Dentures?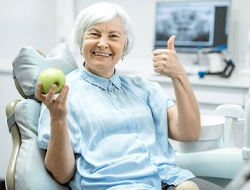 Traditional dentures of today fit and function very well, but they still have their disadvantages. Periodic adjustments are necessary for them to maintain their good fit. Anchoring a denture in the jaw with dental implants is truly a game-changer because it dramatically improves the function, fit, and bite strength of dentures while also bolstering your oral health in numerous ways.
Some specific advantages of opting for an implant-retained denture include:
Your jawbone and facial structure will be preserved
You may no longer need to use denture adhesive
You will no longer have to worry about the embarrassing and uncomfortable "slips" that sometimes come with traditional dentures
How Does the Process Work?
Your journey begins with a consultation with Dr. Parker. He'll discuss your goals and assess your dental history before he performs a detailed exam and takes images of your jaws. He'll use those images to evaluate your bones and determine if they are strong enough and thick enough to support dental implants. Even if it has been quite a while since you lost your teeth or your jawbone has lost some density, implants may still be an option for you. Dr. Parker may recommend a bone graft to prepare your oral jaw to support your new smile.
Sometime after your consultation, titanium implants — which are generally smaller than the dental implants used for other procedures — will be inserted into your jaw. Usually, just 2 – 6 implants are needed per arch. For patients who undergo the All-on-4 procedure, they can usually receive new prosthetic teeth on the same day as their implant placement surgery.
Why Is Dr. Parker Uniquely Qualified to Provide Implant-Retained Dentures?
Experience – There are no substitutes for experience, and Dr. Parker has been practicing dentistry for decades.
Training –Dr. Parker is serious about continuing his education and learning advanced techniques so his patients can benefit from the latest innovations in implant dentistry.
We can handle the entire procedure right here – You will not have to travel to another office for any part of the dental implant process.
Cost of Dentures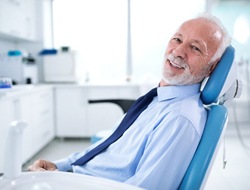 Our team will provide you with a cost estimate during your consultation. The price of your procedure will depend on how many implants you need, the materials used to make your dentures, and other factors. Implant-retained dentures generally cost more than traditional ones, but their superior longevity makes them a better value. We will be happy to help you explore payment options.
If you would like to find out more about how implant-retained dentures can improve your oral health, get in touch with us anytime. As a dentist near Arkansas with your best interests at heart, Dr. parker will take the time to fully understand your needs and create the ideal treatment plan for you.