Specialty Dentures
Palateless Dentures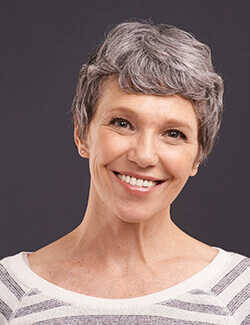 Since traditional dentures were introduced, patients have struggled with the problems posed by a covered soft palate. Normally, upper dentures cover the top of the mouth so thoroughly that a person's ability to taste and experience their food is diminished, not to mention hamper proper function. Now, modern prosthetic dentistry has overcome this hurdle with palateless dentures, available from Dr. Parker.
What are palateless dentures?
The name says it all: these are upper dentures without a palate, which can improve comfort and sense of taste. Palateless dentures are any upper denture that has no plate covering the upper palate, including dental implants, natural tooth-retained overdentures, fixed/removable restorations, or even a conventional palateless denture with a horseshoe shaped frame. This type of denture is often recommended for patients with a highly sensitive gag reflex who have trouble adjusting to the palate in a conventional denture.
Precision-Attached Dentures
These dentures have precision attachments to retain the dentures, possibly in combination with a milled titanium bar. This type of overdenture can be retained by natural teeth or dental implants, depending on your situation. At Marshall Denture Clinic, we call these "snap-on dentures," and they are typically removable.
Fixed/removable restorations such as the All-On-4 implant-retained restorations are also precision-attached dentures. We call this kind of prosthetic "lock-on dentures," because they are a fixed alternative to dentures, and can only be removed by the dentist. This restoration is often considered more lifelike because it stays firmly in place, so it looks and feels more like your natural teeth.
Functionally-Impressed Dentures
Have you ever wished your denture could be more comfortable or fit more snugly and precisely? With functional impressions, a denture can now fit your mouth with unprecedented accuracy.
How does it work?
First, we custom-fabricate a denture to our patient's bite. Then, we place a highly flowable impression material within the denture. When the patient chews, speaks, or carries out normal functions, the muscle attachments and soft tissues of the mouth mold the denture into a precise functional impression. This impression technique (sometimes called the Pound denture technique or the Turbyfil denture technique), combines natural oral function with the impression-taking process so Dr. Parker gets the most accurate and detailed impression for fitting your dentures. We will reline your dentures using hard acrylic or a soft liner using the functional impression we've made, and the result is a much more comfortable and exact-fitting denture.
Soft-Lined Dentures
Unlike traditional hard-lined dentures, soft lined dentures are the dentures we produce from using the functional impression technique. Once we have the precise information gleaned from that impression technique, we customize your denture with the soft reline material. Dr. Parker highly recommends this type of denture for patients with significant jaw atrophy. These types of dentures are much more stable and comfortable than those with hard liners.
Call today for your free denture consultation! We love to see you smile! If you're looking for quality prosthetic dentistry, look no further. Dr. Parker of Marshall Denture Clinic is waiting to serve you. Our Marshall general dentistry practice treats patients from Texarkana, Shreveport, Longview, Nacogdoches, Carthage, Tyler, and the surrounding areas.