Lock-On Dentures in Marshall, TX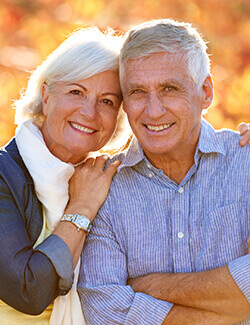 Also known as the "All-On-4" technique, lock-on dentures in Marshall are a type of prosthesis that is a fixed but removable alternative to conventional dentures. A precision-attachd denture hybrid, lock-on dentures attach the dental restoration to implants placed in the upper or lower jaw. Depending on what is best for each individual patient, Dr. Parker may use a milled titanium bar with false teeth to secure the denture, or he may use individual ceramic crowns.
Traditional Dentures Vs. Lock-On Dentures
Dentures are traditionally held in place by adhesive (bottom) or natural suction (top). But over time, ridges on the gums wear down from constant pressure, and the resulting smooth gum tissue makes dentures more likely to slip, slide, or wobble. This is not only uncomfortable, but can be quite embarrassing when your teeth seem to suddenly move out of position. If you'd like a solid solution for denture stabilization, consider Lock-on dentures, a dental implant procedure by NobelBiocare.
Prepping for Lock-On Dentures
By having four dental implant posts placed in your jaw, Dr. Parker creates a foundation that will hold your denture securely. With extensive experience in implant dentistry and complex tooth replacement cases, your dentist in Marshall is well qualified to rebuild your smile with lock-on dentures.
The dental implants that Dr. Parker uses to secure lock-on dentures are slightly smaller than standard implants. For this reason, they are placed at a slight angle in your jaw in order to take advantage of the greatest bone density that allows a stronger bond to be built between the implant and your jaw.
In addition to offering greater security, lock-on dentures also give you the benefits of dental implants. First of all, dental implants are lifelike tooth root replacements—an advantage that does not come with dentures that rest on top of your gums. By replacing roots, dental implants stimulate healthy bone tissue growth. Therefore, your risk of bone degeneration is reduced so you are less likely to see the shape of your face change, which often happens with other tooth replacement options.
In addition, dental implants can last a lifetime with proper maintenance that includes excellent oral hygiene and regular dental checkups. Finally, with your lock-on dentures secured to dental implants, you can forget about all of those messy denture adhesives.
Attaching Lock-On Dentures
In some cases, dentures can be retrofitted with implant snaps, but most often, a custom denture is necessary. Like other types of dentures, your lock-on denture consists of false teeth mounted to a gum-colored acrylic base. This denture will snap, or "lock on" to the four implants. Lock-on denture patients enjoy a higher quality of life, improved dietary possibilities, and greater confidence in social situations.
Call today for your free all-on-4 dentures in Marshall consultation! We love to see you smile! If you're looking for quality prosthetic dentistry, look no further. Dr. Parker of Marshall Denture Clinic is waiting to serve you. Our Marshall general dentistry practice treats patients from Texarkana, Shreveport, Longview, Nacogdoches, Carthage, Tyler, and the surrounding areas.