The Home of Your Emergency Dentist in Marshall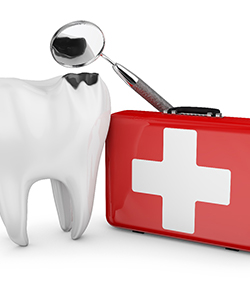 Dental emergencies, just like any other, always seem to pop up at the most inconvenient times. Whether they occur suddenly because of an accident or develop slowly over time, absolutely no one can anticipate a knocked out tooth or broken denture ruining their day. Despite this uncertainty, local families can rest assured, because their emergency dentist in Marshall is just a phone call away.
Dr. Charles Parker has over 30 years of experience in dentistry, and in that time, he's pretty much seen and done it all! If you or a loved one find yourselves in the middle of a dental emergency, just give him a call, and our team will immediately spring into action. We strive to always see emergency patients the same day that they call in, because if you're in pain, you shouldn't be left to wait! When you give us a call, we'll work with our schedule so you're able to see Dr. Parker as quickly as possible.
Call Us in Case of the Following Dental Emergencies
Knocked out tooth
Partially dislodged tooth
Chipped, cracked, or broken tooth
Severe toothache
Object stuck between the teeth
Lost or broken dental work (crowns, fillings, dentures, dental implants, etc.)
Injury to the lips, gums, or jaw
Pain or swelling in the face
Even if you are unsure whether or not your situation is an emergency, go ahead and give our office a call anyway. We'll have you describe your situation, and we'll let you know if you should come see us. However, if you suspect that someone has a broken bone, or if they are bleeding for more than 10 minutes, be sure to head straight to your local emergency room right away.
What to Do in a Dental Emergency
Take a moment to breathe and calm down so you can focus.
Call the Marshall Denture Clinic as soon as you can.
Try to find any lost or broken teeth or pieces of dental work.
When recovering a tooth, be sure to ONLY pick it up by the crown (the part that you see when you smile) and never the root.
Gently rinse any debris off with warm water.
Have the victim rinse their mouth with warm water as well.
Try to place the tooth/dental work back into the mouth if possible.
If not, put a tooth in a container of milk or saltwater, and put dental work in a safe container.
Use a clean rag or piece of gauze and firm pressure to stop any bleeding.
Place a cold compress on the face for 10 minutes at a time to help with swelling and pain.
Taking an OTC medication can help manage pain as well, but DO NOT put a pill directly on the affected area, as this could lead to chemical burns.
Call Us For Immediate Care!
This might seem like a lot to remember, especially when you're in the middle of an emergency, but don't worry, because we'll walk you through exactly what you need to do as soon as you call us.
Dental emergencies can definitely be scary and stressful, but with Dr. Parker on your side, you can trust that he'll turn your emergency into a distant (if unpleasant) memory as quickly as possible. To learn more tips on how to handle (and avoid!) dental emergencies, contact us today.