Dental Implants-Marshall, TX
A Permanent Solution to Missing Teeth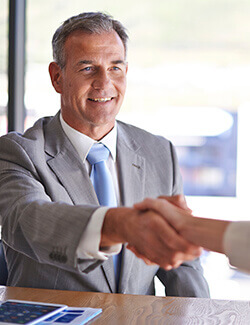 You expect your teeth to last for a lifetime, but unfortunately, sometimes disease, injury, or neglect can take their toll on your smile, leading to one or more missing teeth. When this happens, you want a durable and attractive replacement that requires a minimum of maintenance. Over the last few decades, dental implants have gained the reputation as the best tooth replacement solution among dental professionals as well as their patients. With this state-of-the-art treatment, Dr. Charles Parker can help you reclaim your full and beautiful smile for decades to come.
The Benefits of Dental Implants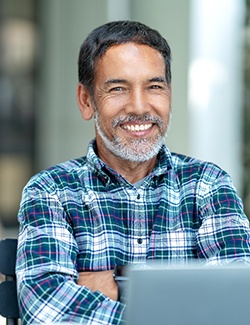 Dental implants are the only tooth replacement that completely mimics the internal structure of your natural teeth. Just like a real tooth, a dental implant has two parts: a root and a crown. A small titanium post is placed directly into the jawbone, and this is used to support a number of restorations above the gum line.
At the Marshall Denture Clinic, we know that every patient is unique, but the benefits of having dental implants apply to all of our patients who are currently living with tooth loss:
Natural function & appearance:Dental implant restorations blend seamlessly with the surrounding teeth, and with the sturdy anchor of the implant post, you'll never have to worry about potential chewing mishaps.
Jawbone retention:Dental implants promote bone health by acting as a substitute for your natural tooth root, stimulating the bone so the potential for degeneration is greatly reduced.
Results that last:Dental implants are amazingly durable, and with proper maintenance, they can easily last for 30 years or more.
Freedom from messy adhesives:Implants can stand on their own because they provide their own foundation.
Indications for Dental Implants
Dental implants are not limited to patients who only need to replace one tooth or even two or three. Implants can hold individual crowns or anchor bridgework or dentures. Dr. Parker can even create a customized treatment plan for you that combines several approaches. Learn more about implant restorations below:
Missing One Tooth
Once an implant root is in place, an all-porcelain dental crown can be attached to the top. Unlike with a traditional bridge, this new tooth won't require support from the surrounding teeth to stay in place, making it a seamless addition to the smile.
Learn More About Single Tooth Replacement
Missing Multiple Teeth
Instead of replacing consecutive missing teeth with individual implants, one or two implants can be used to support multiple prosthetic teeth, creating a strong and natural-looking bridge.
Learn More About Missing Multiple Teeth
Missing All Teeth
Using a few well-placed posts, a full or partial denture can be anchored directly to the jawbone, providing a look, fit, and security a traditional removable prosthetic simply can't match.
Understanding the Cost of Dental Implants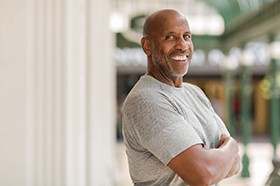 Because dental implants are able to help people with varying degrees of tooth loss, the overall price of the procedure can differ from person to person as well. Factors such as how many teeth a patient wants to be replaced, where they are located in the mouth, and what type of insurance coverage they have can all influence the final cost.
While implant restorations do tend to be more expensive upfront than traditional ones, they are actually the most cost-effective option long-term, largely thanks to their longevity. While regular bridges and dentures typically need to be completely replaced every 5-10 years, implants can easily last for 30 or more, saving a patient thousands in periodic maintenance and retreatment.
Learn More about the Cost of Dental Implants
Dental Implant FAQs
If you're considering dental implants to replace your missing teeth, you're making a great decision and investment in your smile. Dr. Parker understands just how devastating an incomplete smile can be, which is why he wants you to be confident in your decision. If you want to learn more about this tooth replacement option, here are some frequently asked questions about dental implants for you to review.