Dentures – Marshall, TX
Restoring Smiles and Enhancing Your Well-Being
Your smile just isn't complete without a full set of teeth. In addition to creating issues like difficulty speaking clearly and eating confidently, missing teeth lead to jawbone deterioration and other health problems. At Marshall Denture Clinic, Dr. Charlie Parker and our team want you to enjoy the best oral function and overall health, as well as a fantastic smile. We are proud to craft the highest quality cosmetic and functional dentures in Marshall that enhance our patients' oral health, lifestyle, and overall well-being.
What Are Dentures?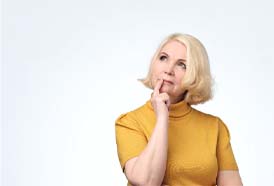 Whether you are missing a few or all your teeth, dentures are custom prosthetics that replace your absent teeth. They come in a variety of styles, which means they can be removable or permanently fixed within your mouth.
In the past, dentures felt unnatural and were difficult for patients to adjust to; however, with the latest advancements in dental technology and materials used, dentures are more natural looking than ever. They are also comfortable, and the adjustment period for patients is much easier than before.
Types of Dentures
You may think that the term "dentures" means we offer a particular one-size-fits-all solution, but with the innovative advancements in the dental field, there are many approaches we can take to provide you with the full, confident smile everyone deserves.
Partial Dentures
If you're only missing a few teeth along the same row, a partial denture can restore your smile. Created from the same acrylic base, the only difference is that you will have some metal framework included. Using clasps, the partial will be held in place by your natural teeth, which will serve as anchors. They are removable and serve as an alternative to a bridge.
Full Dentures
These are made of a natural-colored acrylic base and fit securely over your gums. The upper denture covers the entire roof of your mouth while the bottom is made to look like a horseshoe, making room for your tongue.
Dr. Parker will measure and take impressions of your jaw, so your full dentures can be created in the lab. If you had teeth extracted in preparation for your dentures, it is necessary that you have your dentures relined a few months after receiving them. Why? Because your jaw and gums will heal, and this will cause your dentures to become loose and fit improperly. Once they are relined, your natural suction will keep them in place, but if you want added security, you can opt for a dental adhesive as well.
Implant-Retained Dentures
For patients wanting a more permanent solution, implant-retained dentures are ideal. If you're missing all your teeth along an arch, Dr. Parker can place several titanium dental implants into your jawbone, which will not only stimulate your bone to keep it from deteriorating, but it will also provide the foundation needed to support the denture once it is secured.
Patients who opt for implant-retained dentures must have good bone strength in order to receive implants; however, a bone graft is a viable procedure for adding bone support, if necessary.
Benefits of Dentures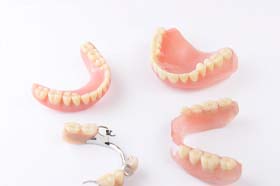 The benefits of dentures in Marshall are many, and include:
Restored ability to eat, speak, and smile with confidence
Fuller facial appearance
Natural looking
No oral sores or discomfort
No lisps or whistles when speaking
Improved nutrition with a balanced diet
Better oral health and general wellness
A longer-lasting solution to partial or total tooth loss
Cost of Dentures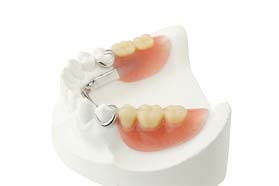 There's no one-size-fits-all price tag when it comes to dentures. Every treatment plan is different, and during your initial consultation with Dr. Parker, he'll discuss the individual factors that contribute to the overall cost of your dentures. Some of these factors include:
Type of dentures needed
The number of missing teeth you have
The materials used
Any pre-denture dental work needed (i.e. extractions, gum disease therapy, etc.)
Get In Touch With Us Today
If you are looking for quality prosthetic dentistry, look no further. Call today to schedule your free denture consultation with your dentist in Marshall. We love to see you smile! Dr. Parker of Marshall Denture Clinic is waiting to serve you. Our Marshall general dentistry practice treats patients from Texarkana, Shreveport, Longview, Nacogdoches, Carthage, Tyler, and the surrounding areas.