Tooth Extractions – Marshall, TX
Save Your Smile from Problematic Teeth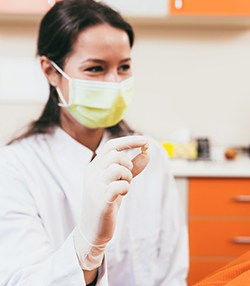 At Marshall Dental Associates, we believe in doing everything we can to preserve a patient's natural smile. However, when a tooth becomes severely decayed, broken, or infected, removing it is often the best course of action. Neglecting a damaged or decayed tooth can lead to a serious infection and even a dental emergency. Fortunately, Dr. Charles Parker has the experience and expertise to perform quick and comfortable tooth extractions in Marshall. Keep reading to learn how removing a troublesome tooth can alleviate your pain and improve your oral health.
Do You Need to Have a Tooth Extracted?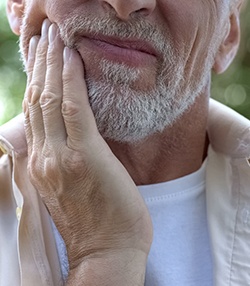 You may benefit from a tooth extraction if you have:
The Process of Removing a Tooth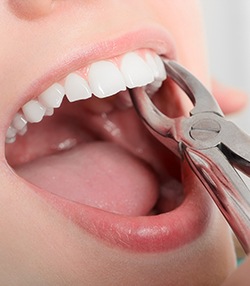 There are two methods for removing problematic teeth: simple or surgical extraction. If your tooth has fully emerged from the gums, Dr. Parker will likely perform a simple extraction. First, he will numb your mouth to ensure you feel comfortable throughout the procedure. Next, he will use a special pair of forceps to grab and gently rock the tooth back and forth until it naturally separates from the gum tissue.
Surgical extraction may be recommended if your tooth isn't fully above your gumline or if it has broken off. In this scenario, Dr. Parker will need to make a small incision in the gums to reveal more of the tooth. He may gently pull the entire tooth out or cut it into smaller pieces and remove them one by one.
The only way to find out which extraction method is right for you – or if you even need to remove your tooth at all – is to visit our office for a consultation. Dr. Parker is an experienced dentist in Marshall and will carefully examine your teeth and mouth before making a recommendation. Together, we will create a plan of action to remove your compromised tooth and consider tooth replacement options.
Tooth Extraction Aftercare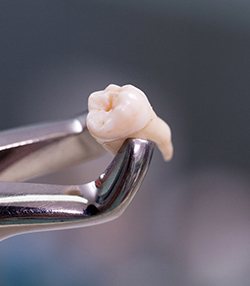 After your tooth is removed, we'll provide you with list of specific post-op instructions to ensure a smooth recovery. Some basic tooth extraction aftercare tips include:
You may experience swelling, mild discomfort, and light bleeding immediately following tooth removal. This is completely normal and can be managed by taking pain medication as directed and applying an ice pack to your cheek. However, if these symptoms don't go away after a few days or seem to be getting worse, don't hesitate to contact us right away!
Understanding the Cost of Tooth Extractions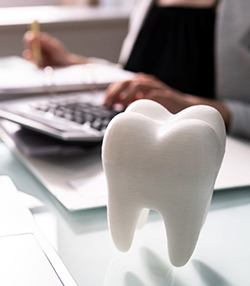 Before you decide to have one of your teeth removed, you deserve to know all of the pertinent information, especially when it comes to cost. While we can't give you an exact estimate without examining you first, the sections below will give you a much better idea of what you'll be expected to pay out of pocket.
&nbsp
Factors That Can Affect Tooth Extraction Cost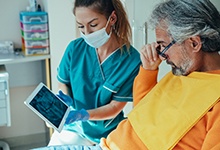 The average cost of a tooth extraction (including wisdom teeth) in Texas before insurance can range from $75-650. Obviously, that is quite the large gap, and that's because no two tooth extractions are the same. Many factors can make this procedure more complicated, and therefore more expensive. A few of them include:
The location of the tooth (back teeth are more difficult to remove than front teeth).
The number of teeth that will be removed at one time.
What type of extraction is needed, i.e. simple or surgical.
If the tooth is fully/partially erupted or still trapped within the jaw and gum line.
If sedation is used.
When you come in for a consultation with Dr. Parker, he'll perform a detailed exam so he can answer all of these questions, and then our team will go over the cost of tooth extraction in Marshall. We'll make sure there isn't an unpleasant surprise after you receive treatment.
Does Dental Insurance Cover Tooth Extractions?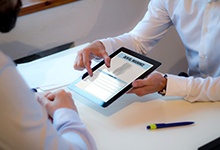 Most dental insurance plans offer partial coverage for tooth extractions, typically about 50%. However, this may come with restrictions, and the benefits will only be available after a deductible or copay has been met. Some plans only account for a certain number of teeth, or there may be a waiting period before coverage starts. That's why it's important to read over your policy before committing to getting an extraction. We know that this process isn't easy, so our team is more than happy to go over your plan with you and answer any questions!
Tooth Extractions FAQs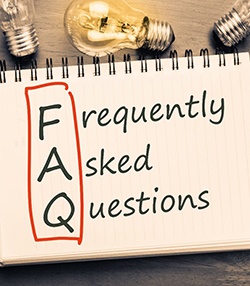 Have you recently found out that you will need to get a tooth removed? If so, you likely have at least a few questions. You've come to the right place! Our talented team has answered some of the most common questions about tooth extractions in Marshall below. Feel free to call our office if you have additional questions or concerns not addressed here.
Does Getting a Tooth Extracted Hurt?
Many patients feel nervous about getting a tooth removed because they fear the procedure will hurt. Fortunately, whether you are getting one tooth pulled or multiple teeth, the first step is always the same: numbing your mouth. Dr. Parker will use a local anesthesia to ensure your comfort during the extraction. Afterward, you will likely experience some slight soreness and discomfort, but this can be managed by taking over-the-counter or prescription pain medication as directed. Following your aftercare instructions to a tee is essential in not only preventing infection but reducing puffiness and promoting healing. If your pain worsens or you begin to exhibit signs of an infection (like a fever), contact our office right away.
What Are My Options for Replacing a Missing Tooth?
There are several options for replacing missing teeth. The best solution for you will depend on how many teeth you are getting pulled and where they are located in your mouth. Here are three popular restorations:
Dental Bridge – This restoration uses the adjacent teeth to anchor the replacement tooth in place. To accomplish this, a dental crown is added to the two nearest teeth, literally "bridging" the gap in your mouth. A dental bridge is ideal for patients who are missing one tooth or a single row of teeth.
Dentures – Do you need to get multiple teeth pulled throughout your mouth or to replace an entire arch? Partial and full dentures can seamlessly rebuild your smile! The gum-colored base and custom-made prosthetic teeth make this restorative option more lifelike than ever before.
Dental Implants – Implants are the only tooth replacement solution that restore missing teeth from the roots up. In addition to lasting for 30+ years with proper care, implants are entirely custom and incredibly durable.
To discover which of these restorative options is best for you, schedule a consultation with Dr. Parker.
Can I Smoke After Getting a Tooth Extracted?
Since all tobacco products can delay healing, you should abstain from smoking cigars, cigarettes, and even e-cigarettes immediately following a tooth extraction in Marshall. We typically recommend that patients do not smoke for at least five days afterward. However, if you can, you should avoid smoking for two weeks. If you've had difficulty quitting in the past, don't hesitate to share this with Dr. Parker. They aren't interested in passing judgment – they just want to know so they can help you prepare in advance.
What Can I Do to Speed Up the Healing Time?
Resting is one of the most important things you can do to boost your recovery after a tooth extraction. Avoid the gym and don't do anything strenuous for at least 24 hours. In addition, try to keep your head elevated while you're resting on the couch or sleeping. When it comes time to eat, avoid acidic foods that can cause irritation. Do your part to prevent dry socket, which can significantly delay the healing process, by staying hydrated, not using a straw, and not spitting. If you experience swelling, place an icepack or cold compress against the outside of your cheek. Certain medications, like aspirin, will slow down clotting and healing since it's a blood thinner. Only take pain medication recommended by a dentist in Marshall.