Dental Implant FAQ
What is a dental implant?
A dental implant is basically a prosthetic tooth root. It is a small titanium post that is placed into the jaw where a tooth used to be, and once there, it can be used to support any number of replacement teeth.
How do dental implants compare to bridges and dentures?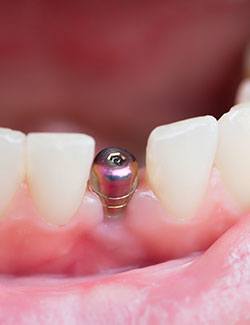 Patients and dentists agree that dental implants offer the most complete missing tooth solution available today. This is because it is the only treatment that restores both parts of a tooth above and below the gum line. This not only makes the replacement teeth extremely stable and natural-looking, but the implants also help support the jawbone from within. This keeps the bone strong, as it encourages new bone growth, which helps the face maintain its natural appearance over time.
How many teeth can dental implants replace?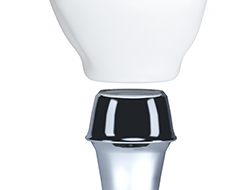 Dental implants can be used to replace any number of missing teeth. Implant-retained crowns can restore a single tooth, implant-retained bridges can replace a few teeth in a row, and implants can even be used to support a full denture that is much more reliable and comfortable than a traditional removable prosthetic.
What is the process like to get dental implants?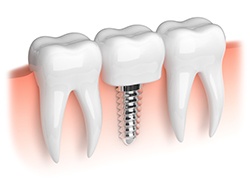 Everything will start with an exam with Dr. Parker so he can determine if you are a good candidate for implants (more on this below). If you are, the procedure will take place in two main phases: placement and restoration.
To place the implants, you will need to undergo a minor surgery that Dr. Parker can perform right in our office. During this, the implants will be positioned within your jawbone. Thanks to modern techniques and local anesthesia, most patients report feeling very little discomfort either during or after the surgery. Afterward, you'll be given a few months to heal, during which the implants will actually bond with the surrounding bone through a process called osseointegration, making them even stronger. Healing time can take anywhere from three to eight months.
You'll then return to our office to have your new teeth attached to the implants. Dr. Parker will make sure they fit correctly and that your bite comes together properly before letting you leave the office. After that, your new smile will be ready for the world!
Does dental implant surgery hurt?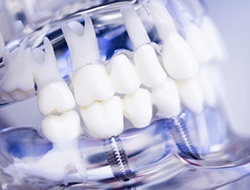 While some minor soreness and swelling is common after implant placement, patients are able to remain completely comfortable during the procedure thanks to local anesthesia and minor sedation if needed.
How much do dental implants cost?
This answer is different for each patient because the overall cost of implants can vary depending on a few factors, such as how many teeth they need to be replaced and if they require any preparatory procedures before placement. Insurance can often help offset the cost of dental implants, and our office also offers a variety of financing options to break up the cost into smaller installments. We'll be able to give you a better estimate of your implant cost after your initial exam.
Am I a good candidate for dental implants?
We will recommend dental implants for patients who have good dental health, stable overall health, and enough healthy jawbone to support them. If a patient does not have all three of these qualifications, this will need to be addressed before placement can happen. Dental issues like gum disease and uncontrolled systemic illnesses like diabetes can negatively affect a patient's healing after placement, and a bone graft may be necessary if the jawbone is too thin or brittle to support the posts.
Be sure to give us a call if you have a question that we haven't answered here!