Single Tooth Replacement-Marshall, TX
Get Rid of the Gap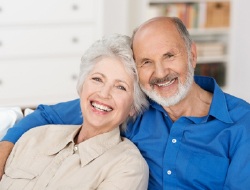 There are many people who are missing a single tooth who choose not to replace it, and that's because they assume it's just not a big deal, especially if the tooth isn't that visible. Unfortunately, leaving things alone will likely only lead to even more dental issues down the line. Even when just a single tooth goes missing, a person starts to lose jawbone density in the area, and their risk of gum disease skyrockets, both of which can make additional tooth loss pretty much inevitable. However, with a single tooth replacement in Marshall, we cannot only complete your smile, but protect its long-term health as well.
Our Single Tooth Replacement Options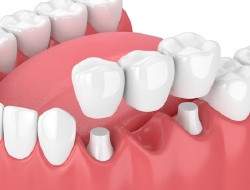 Fixed Bridge: This prosthetic uses the teeth surrounding the missing one to support a new tooth that fills in the gap. The adjacent teeth are fitted with dental crowns, and these are attached to a tooth that literally "bridges" the space. With it, we can restore balance to the bite and prevent the remaining teeth from shifting out of place at the same time.
Single Tooth Implant: Instead of replacing just the visible portion of the tooth like a bridge, a dental implant restores both the root and A small titanium post is placed directly into the jawbone, and it's then attached to a crown that shows above the gum line. The end result is extremely stable, natural-looking, and can be trusted to last for decades. It's pretty much the next best thing to a natural tooth!
The Benefits of Single Tooth Dental Implants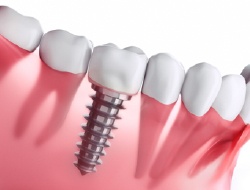 While fixed bridges provide an excellent option for someone missing a single tooth, dental implants have numerous advantages not offered by any other treatment:
Unlike with a bridge, single tooth implants don't require healthy teeth to be cut down to hold the prosthetic in place. They fit seamlessly into someone's smile as is, better preserving their remaining teeth.
Implant roots actually stimulate the jawbone from within, which can stop and even reverse jawbone loss, protecting someone from future tooth loss.
100% custom-made porcelain crowns are used to top dental implants in 75670, creating a lifelike appearance that blends easily into any smile.
Bridges tend to need to be replaced after about 10 years, while an implant can often last for 30 or more, making one a very wise long-term investment.
Contact Marshall Denture Clinic Today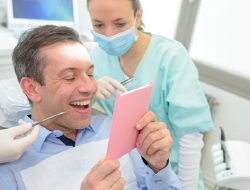 If you've been simply ignoring your missing tooth, you're putting your future dental health at great risk, but our team is ready to help with the best options that modern-day dentistry has to offer. To learn more about how we can fill in that gap in your smile, schedule a FREE consultation today.