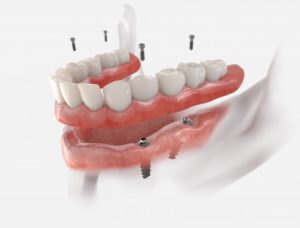 Baked potatoes and sour cream, bacon and eggs, chicken and dumplings…some things are just better together! That's also the case when dentures and dental implants join forces. You do not need a dedicated implant for each tooth you intend to receive. Implant dentures are usually held in place with 4-6 implants, and each one integrates with your existing bone and gum tissue to ensure a long-lasting fit. Keep reading to learn if you are a candidate, discover their benefits, and find out what it's like adjusting to implant dentures in Marshall.
What Are Key Aspects of the Adjustment Period?
Speaking: Because of the secure fit you get with implant dentures, many patients don't experience an adjustment period when it comes to speaking. In fact, implant dentures can help patients who suffer from tooth loss speak more clearly and with the confidence of knowing their dentures are firmly in place. If needed, just practice chatting at your house to your loved ones until you get more comfortable.
Hygiene: Good oral hygiene practices are a great way to set up your implant dentures for success. This means consistent brushing, flossing, and rinsing with mouthwash as often as your dentist recommends. Even though tooth decay is no longer a risk, you need to protect yourself from gum disease.
Eating: Be sure to stick to soft foods and limit chewing while they heal. By the time your mouth has fully recovered, you will be acclimated to eating with dentures so shifting to crunchy or chewy foods won't be a big adjustment. Drinking plenty of water and limiting sugar consumption are both great advice for denture wearers.
The Benefits of Implant Dentures
There are many reasons why deciding on implant dentures can make life a little easier:
Implants are made to have a lifespan of more than 25 years, but they can last a lifetime when well-placed by a professional.
Enjoy improved oral health due to ease of maintenance in keeping gum disease away.
You do not have to worry about your implant shifting out of place.
You do not need to rely on denture adhesive.
Dental implants make it easier to enjoy the foods you love and speak with clarity.
What Makes You a Viable Candidate for Implant Dentures?
To be eligible for implant dentures, you need to have good oral health, healthy gum tissue, and sufficient bone volume for implants to integrate with. If you are missing several teeth and you'd prefer not to use a traditional denture, you're tired of using your current denture, or you don't want to regularly repair and replace them, then implant dentures might be right for you.
If they sound like a good match, after adjusting to implant dentures, you are going to be set up for decades with a low-maintenance, winning smile! Be sure to sit down with your dentist in Marshall to get confirmation they think implant dentures are the best long-term call for you.
About the Author
Dr. Charlie Parker has been working hard for the smiles of Marshall for more than four decades. He earned his dental doctorate from the University of Texas Health Science Center in San Antonio and is a member of the American Dental Association. If you are interested in implant dentures, Dr. Parker has extensive experience in implant dentistry and sedation options are available for your comfort. Schedule a consultation on his website or by calling (903) 935-6351.