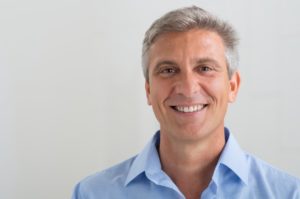 On this site, we spend a lot of time talking about the merits of dental implants in Marshall, how they're able to bring back any number of missing teeth and make even the most compromised smile look like new again. Today, however, we're going to touch on a procedure many patients need in order to actually get them: bone grafting. For many, bone grafting is the first step towards a renewed smile. What is it? How does it work? Why would a person need it? Today, we're going to answer all of these questions and more.
What is Bone Grafting?
You may have heard of a skin graft being used to help treat burn victims, in which a portion of a patient's own skin or donated skin is placed somewhere else on the body where skin is missing. Bone grafting works using the same basic principle.
Bone harvested from a patient (usually from their shin, hip, or mouth) is placed where the bone is currently too thin, brittle, or weak in order to strengthen it. Bone grafting can also be performed using donated bone, animal bone, or a lab-made grafting material.
In relation to dental implants, the graft is actually done on the jawbone in the area the dentist intends to place the implant so the new tooth can have a strong and firm foundation.
Why Would a Person Need Bone Grafting?
Bone grafting is often necessary before getting dental implants because one of the most common effects of tooth loss is bone loss. When a tooth goes missing, the body senses that the jawbone in the area no longer needs to support a tooth, so it naturally decreases the blood supply to the area. This causes the bone to shrink and change shape.
For a patient who has been dealing with tooth loss for a long time, this can leave the jawbone far too weak to support dental implants. In the past, this made many ineligible for the treatment, but thanks to bone grafting, now even more patients can benefit from the most complete tooth replacement solution available today.
Do You Need Bone Grafting?
This is a decision that will be made by your dentist based on the results of an oral exam in addition to what they see in X-rays and other diagnostic images. If they do determine that bone grafting is necessary, just know that it's there way of ensuring the safety of your implant procedure and the longevity of your new smile. Bone grafts can often be completed at the same appointment as implant placement, but in some cases, a patient will need to heal for a bit before actually getting their implants.
Thanks to modern dental techniques and technology, most patients report feeling very little discomfort both during and after their bone graft, and once the implants are in place, they can be trusted to last for decades to come.
About the Author
Dr. Charles Parker has been practicing dentistry since 1981, and today, he is THE go-to expert for dental implants in Texarkana, Marshall, and Shreveport. If you're interested in replacing your missing teeth with the most state-of-the-art solution available today, he's ready to help you do it, so contact him for more information.