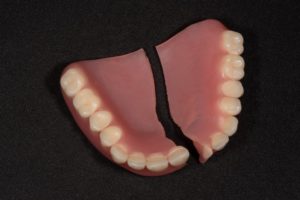 Your dentures are an essential part of your everyday life. They are vital when you are eating meals, and they play a role in your speech as well. They may even have a positive effect on your self-esteem. Understandably, you may be alarmed if your dentures break. Such a situation can truly be considered a dental emergency! However, there is no need to succumb to panic. The following information will help you deal with your broken denture in Marshall as effectively as possible.
Assess the Damage and Call Your Dentist
Examine your denture and try to evaluate the extent of the damage. Is one of the prosthetic teeth broken? Did one of them fall out? Is the denture's base warped, chipped, or otherwise damaged? Assessing the problem will equip you to clearly explain the situation when you call your dentist. After they learn what happened, they will be able to advise you on your next steps. In all likelihood, they will urge you to come to their office for an appointment as soon as they can arrange their schedule to see you.
Do Not Attempt a DIY Fix
Do not try to fix your dentures by yourself. Unless you have been trained to repair dental prosthetics, it is probable that any DIY fix you attempt would not last very long. In a worse case scenario, you could even cause further damage to your denture. Also, keep in mind that if you use a glue that is not specifically designed for oral prosthetics, the glue is likely to irritate your oral tissues. It is always best to leave denture repairs to a qualified professional.
Getting Your Dentures Repaired
When you attend your denture repair appointment, your dentist will examine your prosthetic and determine if an in-office repair could reverse the damage. This might be possible if the problem is relatively minor. However, if the issue is more severe, you may need to invest in an entirely new denture. After your dentist educates you about your options for your new prosthetic and you decide how to proceed, they will begin to plan your treatment.
Preventing Future Damage
Once your denture is repaired and/or replaced, your dentist may offer some suggestions to help you prevent problems from occurring again in the future. For example, they may advise you to only remove your denture when you are standing over a soft surface (in case of accidental drops) or to avoid certain foods. Hopefully, applying their tips will enable your prosthetic to serve you well throughout the coming years.
A broken denture doesn't have to get you down! The above tips can help you get your smile back in working order as quickly as possible.
About the Author
Dr. Charlie Parker is a graduate of University of Texas Health Science Center in San Antonio. He has been serving patients in Marshall for nearly 40 years, and during that time, he has gained extensive experience in designing and repairing dentures. He is often able to see emergency patients on a same-day basis. If your denture is in distress, contact our practice right away at 903-935-6351.