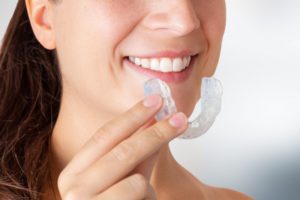 If you have lost one or multiple teeth, it is important that you consider your options for replacing them. Dental implants in Marshall rebuild lost dentition from the roots up and are thus considered the gold standard in tooth replacement. Unfortunately, though, not everyone is a viable candidate for implants; there are certain medical and oral conditions that could make it difficult for you to qualify for the procedure. Is bruxism one of them? Let's talk about this important question.
Bruxism and Dental Implants
Bruxism is a condition marked by unconscious, habitual clenching and grinding of the teeth. It can occur at any time, but it is most common at night, when a person is sleeping. It can be quite destructive to natural teeth, causing premature wear and tear on the enamel, increasing the risk of cracks and chips, and damaging the gums.
It can also be damaging to dental implants. Dental implants bond with the bone tissue around them; that is why they are able to serve as prosthetic tooth roots. Unfortunately, they do not have the same capacity for small movements as natural teeth. Hence, when bruxism exerts constant pressure on the implants, it can cause micro shifts in their position that damage the surrounding bone. Over time, this problem may lead to dental implant failure.
Another issue that bruxism may cause is damage to the artificial teeth on top of the implants (their restorations) and the teeth directly opposite from them.
Can Bruxism Disqualify You from Getting Dental Implants?
Fortunately, bruxism in Marshall will not automatically disqualify from getting dental implants. Dentists determine candidacy for implants on a patient by patient basis. After they examine your teeth and get to know more about your circumstances, your dentist will let you know whether you can take advantage of dental implants. If you do not qualify for them right away, you may qualify for them in the near future.
Prior to approving you for implants, your dentist will seek to stop your bruxism. They may do so by providing you with a custom oral appliance that will put a barrier between your top and bottom teeth while you sleep, thus preventing them from grinding against one another.
Additionally, keep in mind that stress can exacerbate or even cause bruxism. Your dentist may suggest that you implement some stress relief techniques into your daily routine.
Bruxism is a threat to dental implants — but if you suffer from it, you should not conclude that you cannot take advantage of the best tooth replacement method that modern medicine has to offer. Your dentist will do everything they can to help you rebuild your smile.
Meet the Author
Dr. Charlie Parker has practiced general dentistry in the Marshall area for nearly 40 years. He focuses on providing reliable, aesthetically pleasing tooth replacement, including both traditional dentures and dental implants. Regardless of whether you have bruxism, he would be pleased to help you replace your lost dentition. Contact our practice at 903-935-6351.