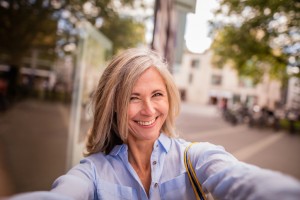 You were never one of those people who tried to fight the ageing process. You chose to do it gracefully. You embraced it when your hair became mostly gray, or when your smile lines became more noticeable. Of course, this doesn't mean you don't care about your appearance at all. The only thing that bothers you are the wrinkles around your mouth. You aren't about to go to a plastic surgeon or try some new miracle cream that doesn't work, so what can you do? Did you know implant supported dentures could be the solution you're looking for? "The dentist near me can help my wrinkles?" you're probably asking. Yes, and we're going to tell you how today.
Wrinkles and Tooth Loss
A few things happen after you've lost most of your teeth that can lead to wrinkles developing on your face. First, the body naturally stops sending blood to your jaw and gums. This can actually cause them to shrink, providing less support for the skin. This can cause wrinkles like radial lip lines or lines around the corners of your mouth. Because the lips are not supported either, they appear less full, and this can noticeably make you look older. Also, a lack of teeth can cause your jaw to naturally ascend, creating nasolabial folds, or wrinkles stretching from your mouth to your cheeks.  All of this happening at once can drastically affect your appearance, and make you look older than you really are.
How Dentures Can Help
While traditional dentures can help replace your teeth, they do little to replicate the bone support your face really needs. The only method that is able to do this is dental implants. They are the only restorative procedure that replicates your teeth both above and below the gum line. These implants can then be used to support a set of dentures. Not only will your jaw be fully supported like it would be with natural teeth, but implants also help revitalize it along with your gums. This is because the titanium used in the implants actually invites the body to renew blood flow to the area, bringing it back to life. The end result is that the structure of your face is fully restored, preventing your skin from folding and wrinkling like before. Of course, implant supported dentures are also the most secure and reliable way to bring back your missing teeth, so the benefits are multi-faceted.
Want to Know More?
After reading this, do you think your dentures could be leading to more wrinkles? If so, simply call your dentist in Marshall, TX, Dr. Charles Parker. One quick consultation is all he needs to determine if your dentures are helping or hurting your appearance. He can even help you get implant supported dentures if that would be the best solution.
The right set of dentures can allow you to age just how you want. If you'd like to know more, please give us a call today.