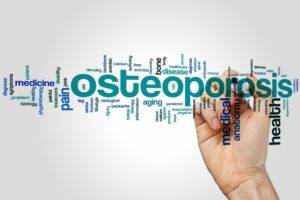 Osteoporosis is a very common condition that causes the bones to gradually weaken over time, and it's especially prevalent in post-menopausal women. In many cases, it can cause the jawbone to become very thin and brittle, which can make a person much more likely to experience tooth loss over time. Dental implants are often used to restore missing teeth because they are the only treatment that rebuilds the entire structure of a tooth, but in order to get them, a patient must have an adequate amount of strong, healthy jawbone to support the prosthetic root. Does having osteoporosis mean that a patient is automatically ineligible to get dental implants? A recent study published in the Journal of Oral Implantology says otherwise.
What the Study Found
This study wanted to find out something very specific: are women with osteoporosis who are taking biophosphonates (a common drug for the condition) at a greater risk of experiencing complications when receiving dental implants? In order to find this out, researchers placed implants into the jaws of two different groups of women. One had osteoporosis and were taking biophosphonates, and the other was the control group, having neither the disease nor taking the drug.
In the end, the results were positive for every woman in both groups. A year later, all of the implants were still in place, and even though some bone loss was experienced by both groups, it was similar between them. In the end, researchers concluded that using implants with women who have osteoporosis is no more risky than using them for anyone else.
Why Was This the Case?
These results are all well and good, but why did they turn out this way?
The key is how the body, specifically the jawbone, reacts to dental implants once they have been placed. Dental implant posts are made of biocompatible titanium, so when one is inserted into the jawbone, the bone naturally grows around it and melds with it. And, because the body "senses" that the bone now needs to support a tooth, it sends blood and nutrients to the jaw in order to keep it healthy and strong, which prevents extensive bone loss. This is why dental implants are a viable way to replace missing teeth for people with thin or weak jawbones, even those stemming from osteoporosis.
Are Dental Implants Right For Me?
If you're reading this, then it's likely that either you or a loved one have osteoporosis, and you're wondering if dental implants can help restore your/their missing teeth. While the findings in this study are very promising, the only person who can say for certain that dental implants are right for a specific patient is a qualified implant dentist. When a patient visits their dentist, the doctor will perform a thorough exam that will look at their dental and overall health in addition to the bone density of their jaw. Only after considering all these factors will they make their recommendation.
So, if either you or a loved one are interested in getting dental implants, the best thing you can do is contact an implant dentist in your area today. They'll be able to evaluate your/their individual situation and let you know which tooth replacement would be best. Thankfully, according to this study, osteoporosis likely won't prevent you from getting implants.
About the Author
Dr. Charles Parker has been practicing dentistry in east Texas and Louisiana for over 30 years, and in that time, he has rebuilt thousands of smiles using dental implants. Thanks to his knowledge and experience, he's able to help an even wider array of patients reclaim their complete smiles. Do you have osteoporosis and are interested in having some teeth replaced? If so, he's the man to talk to. To get in contact with him, click here.