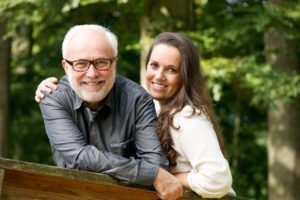 You're sitting at dinner with your family, and you have so much to say. Your grandchild has just started high school, and you can tell they are a little overwhelmed by everything. You just want to let them know that everything is going to be alright and that they shouldn't take anything except their studies too seriously. You'd love to reassure them, but you can't because you have to chew your food extremely slowly due to your dentures. They've started slipping and sliding a lot lately, and the last thing you want is for them to unexpectedly fall out of your mouth in front of everyone. You know you could help, but your dentures are holding you back.
Have you ever had an experience like this where your dentures limited your ability to speak or eat? If so, you're like millions of other Americans who are in need of a better denture. Fortunately, modern-day dentistry has stepped up to the challenge and developed a solution called implant-supported dentures, which offer a security and strength unmatched by any other dental prosthetic.
What Are Implant-Supported Dentures?
Traditional dentures are held in place using small metal clasps or natural suction, and they tend to lose their fit after just a few years because while they might replace your teeth, they do little to stop the jawbone degeneration that happens as a result. In order to prevent this, you need to replace the roots of your teeth as well as the crowns, and that's exactly what implant-supported dentures do.
Small titanium posts called dental implants are placed directly into the jawbone in order to rebuild the root structure of your lost teeth, and these can then be attached to a denture to rebuild your smile. Whether you are missing a few teeth or a complete row, dental implants are versatile enough to support a wide variety of prosthetics.
The Benefits of Implant-Supported Dentures
Compared to traditional dentures, implant-supported dentures offer an array of benefits that not only improve the smile's appearance, but a person's overall health as well:
Because implant-supported dentures are anchored into the jawbone just like natural teeth, they have the same strength and stability as well. That means no more unexpected slipping, sliding, popping, or clicking.
Thanks to the internal support for the jaw provided by the implants, their fit will last for much longer. The implants will prevent and even reverse the bone degeneration we mentioned earlier, which is not only great for your dentures, but the overall shape and appearance of your face as well.
The biggest benefit is that implant-supported dentures enable a person to have a bite force more similar to natural teeth, allowing them to eat foods traditional denture wearers typically have to avoid (such as raw vegetables and cooked meats). This ensures that a person will have a hearty and healthy diet, which will improve their health and longevity tremendously.
Are They Right For Me?
Implant-supported dentures have helped millions of Americans get the security and stability they need for their smiles. With them, the next time you're eating, talking, or spending time with your family, the absolute last thing on your mind will be your dentures, and that's exactly how it should be.
If you're ready to upgrade from your old dentures and get a set of teeth you can truly rely on, contact an implant dentist in your area today for a consultation.
About the Author
Dr. Charles Parker is an implant dentist and denture specialist based in Texarkana, TX. He has been practicing dentistry in East Texas for nearly 40 years, and he has literally helped thousands of patients reclaim their smiles with implant-supported dentures. If you'd like to learn more about everything you've just read, he can be contacted through his website or by phone at (903) 935-6351.