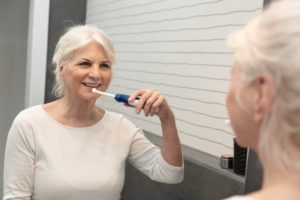 Oral hygiene is of paramount importance for everyone — including individuals who wear dental prosthetics like dentures. Your efforts at maintaining a clean mouth will prevent infections, sores, and unpleasant odors. However, you may have some questions about the best way to care for your replacement teeth. Many patients ask, "Can I brush my dentures while they're in my mouth?" Let's discuss the answer to that question and talk about some best practices for cleaning your dentures.
Pros and Cons of Cleaning Dentures Without Removing Them
Yes, you can clean your dentures while they are still in your mouth. As long as you use a soft-bristled brush and avoid the use of any abrasive toothpaste, brushing your dentures as if they were natural teeth won't do any harm. You might use this practice as quick way to freshen up your mouth between meals.
With that being said, there is a major caveat you should keep in mind. Even if you regularly brush your dentures while they are in your mouth, you must still take them out in order to achieve a thorough clean. There are parts of your dentures, such as the area beneath the gum-colored base, that you cannot clean without taking your prosthetic out. Because of this, many patients find that they save time and effort by always removing their dentures when it is time to clean them.
Thoroughly Cleaning Your Dentures
You should thoroughly clean your dentures at least once each day. Here are some tips on how you can accomplish that:
Use a soft-bristled brush to clean all of the dentures' surfaces, including the underside.
Only use products that are specifically designed for dentures. Other products may be too harsh and have the potential to scratch your artificial teeth.
Clean your dentures over a sink full of water or a folded towel so they will not break if you accidentally drop them.
Soak them overnight. Often, you should soak them in a special denture-cleaning solution. However, there is nothing wrong with storing them in plain water.
Rinse your dentures before putting them back in your mouth. This is especially important if you use a denture-soaking formula because you don't want to expose your oral tissues to any cleaning chemicals that might be lingering on your prosthetic.
Take time to clean your mouth as well. Rinsing with an antibacterial mouthwash, brushing your tongue, and taking other steps to care for your oral tissues can do much to help you enjoy your dentures to the fullest extent possible.
Cleaning your dentures while they are in your mouth is certainly possible, but it's not the best way to maintain them. Instead, follow the above tips to ensure that your prosthetic stays as fresh and functional as possible.
About the Author
Dr. Charlie Parker is a general and restorative dentist in Marshall with nearly 40 years of experience. He is a member of the American Dental Association and the East Texas Dental Society. Over the decades, he has completed extensive training in dentures, dental implants, and other complex procedures. To learn more about Dr. Parker and the services he offers, contact our office at 903-935-6351.