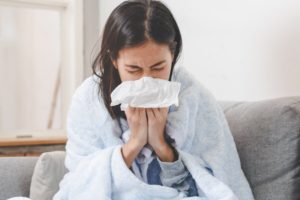 At the moment, you may be busy basking in the pleasant weather of late spring. Autumn, winter, and their common sicknesses may be in the furthest corners of your mind. But before you know it, cold and flu season will be back in full force! In the meantime, you may be concerned about other illnesses, such as COVID-19. Here are some cold and flu seasons tips to help you protect your oral health if you come down with a bug. Your teeth and gums will thank you for your diligence.
Keep Brushing Your Teeth
When you are feeling less than your best, it can be all too easy to let the little things slip past you. You might even be tempted to skip brushing your teeth. However, you should always put forth the effort to brush your teeth twice a day, even when you are under the weather. Not brushing will give plaque and bacteria the opportunity to accumulate in your mouth and contribute to possible dental decay and gum disease.
Once you recover from your sickness, you probably will not need to buy a new toothbrush. The chances of your current brush re-infecting you are quite slim. However, it may be wise to replace your brush anyway if you have been using it for more than three months or if the bristles look frayed.
Use Sugar-Free Medications
Throat lozenges, cough drops, and various medicinal syrups can do much to ease the symptoms of your flu or cold and make you more comfortable. The downside to these products is that many of them contain a lot of sugar, which could easily damage your teeth. Try to opt for cold and flu medications that are sugar-free or that have reduced amounts of sugar. If that is not possible, you should sip on water after you take your medicine to help rinse away sugar that might be lingering in your mouth.
Stay Hydrated
Drinking water while you are ill does more than rinse sugar out of your mouth. It also replaces fluids lost through sweating and mucous. Plus, staying hydrated prevents dry mouth, which is a significant risk factor of the development of cavities.
If drinking plain water gets a little old, you can switch things up by sipping on unsweetened tea. Enjoying low-sugar or sugar-free sports drinks in moderation might also be helpful because they can replenish electrolytes that get lost through sweat.
In just a few short months, cold and flu season will be upon us again. Using the above tips can help you to make sure your smile stays as healthy and strong as possible even when you are battling illness. You should also feel free to contact your dentist to ask for advice if you have questions about how to care for your teeth while you have a cold or flu. They will be happy to share their expertise with you!
About the Author
Dr. Charles A. Parker is a general, preventive, and restorative dentist who has been practicing in Marshall since 1981. He is a graduate of the University of Texas Health Science Center in San Antonio, and he maintains professional membership in the American Dental Association and the East Texas Dental Society. If you have questions about how to care for your teeth while you have a cold, flu, or even COVID-19, he would be pleased to help you. Contact our office at 903-935-6351.