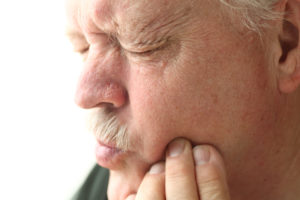 Dental implants are the best way to replace missing teeth, and the procedure boasts a success rate of more than 95 percent. However, in rare cases, complications can occur. If infected, an untreated implant denture in Marshall may lead to serious consequences. In this blog post, we'll discuss why infections sometimes occur, what they might mean for your restored smile, and how you can protect your oral and overall health.
What Could Cause an Infection?
Dental implants act as substitute tooth roots. They bond with the tissue around them and provide an incredibly sturdy base for the denture (or other restoration) that goes on top of them. In most cases, they last a lifetime.
However, there are a number of reasons why dental implants might fail, the most common of which is infection. When harmful bacteria sneak into the tissue around an implant, the infection can actually destroy the bone that is keeping an implant in place. When this occurs, it is usually due to missteps in oral hygiene. Gum disease and smoking can also contribute to an infection's development.
The Importance of Treatment
If you catch an infection around your implant denture in Marshall while it is still in its early stages, you may be able to avoid serious, long-term problems from it. Therefore, if you notice any pain, swelling, or redness around an implant, schedule an appointment with your dentist right away. An implant that feels loose is another major warning sign.
If you do not seek treatment, you could suffer from significant bone and gum deterioration. It may also become necessary to remove your implants. Later on, after your body heals from the infection, it might be possible to replace the implants.
Also, remember that your oral health is not the only thing that is at stake if you develop an infection around a dental implant. The bacteria that is attacking your smile could sneak into your bloodstream and affect other bodily systems, including your heart.
Protecting Your Implants
While you should certainly take the above information seriously, there is no reason to become overly worried that your dental implants will develop problems. You can minimize your risk of an infection by sticking to a thorough oral hygiene routine. If your implant denture is removable, you should take the time to thoroughly clean both your prosthetic teeth and the protruding portion of your dental implants (the abutments) every day. It is also important that you visit your dentist as often as recommended for checkups and professional cleanings.
A dental implant infection can turn into a big problem. However, as long as you take proper precautions, you do not need to let the very slight possibility of implant failure stop you from enjoying your rebuilt smile.
About the Author
Dr. Charlie Parker has served the Marshall community as a general dentist since 1981. He has extensive experience with dental implants and dentures. Whether you are considering your tooth replacement options or have questions or concerns about a prosthetic that you already own, he would be pleased to help you. Contact our office at 903-935-6351 to learn more about Dr. Parker and his services.