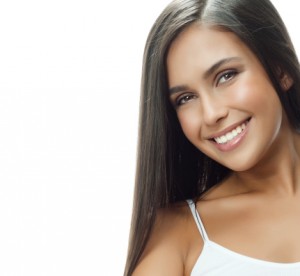 We all know what constitutes a dental emergency. A knocked out tooth, a loose tooth, a lost filling or crown and a toothache are all real dental emergencies. But is it possible to need porcelain veneers on an emergency basis? Sounds like something out of Hollywood… and it was. Performer Hilary Duff broke a tooth during a concert and needed emergency porcelain veneers to fix her smile so the "show could on." While that is admittedly a rare occurrence, porcelain veneers from Marshall, TX, cosmetic dentist Dr. Charlie Parker can give you a show-stopping smile.
What are Porcelain Veneers?
Porcelain veneers are very thin but deceptively strong sheaths of dental porcelain that are adhesively bonded to your teeth. They can be used to correct a variety of dental flaws. In Hilary Duff's case, the problem was a broken tooth. Other imperfections that veneers correct include:
Chipped teeth
Crooked teeth
Permanently stained or discolored teeth
Teeth with wide gaps between them
Teeth that are proportionally too small
What's Involved in Having Porcelain Veneers?
Changing your smile with veneers begins when you meet with Marshall dentist Dr. Parker to discuss your teeth. We want to know what improvements or corrections you think your smile needs. Also, if there are certain characteristics that are important to you, such as how white your teeth will be, then now is the time to mention that, too.
Dr. Parker will also need to conduct a thorough examination of your teeth and gums. If you have any cavities or if gum disease is present, then these problems will need to be addressed before we can begin preparing your teeth for veneers.
In order for veneers to fit securely and comfortably, your teeth must be prepped. This requires removing a slim layer of tooth enamel. Once this step is completed, we'll take an impression of your teeth, so our dental lab can fabricate veneers that fit well and look completely natural in your mouth. We'll also use these impressions to create temporary acrylic veneers that are immediately placed to protect your teeth.
Typically, the lab needs about two weeks to produce veneers. When they're ready, you'll return to Marshall Denture Clinic. Dr. Parker will check your veneers and then bond each one to the appropriate tooth. Together, porcelain veneers create a smile that is ready for the red carpet!
Contact Your Cosmetic Dentist in Marshall Today
Are you ready to have a Hollywood smile? Then call the dental office of Dr. Charlie Parker. Marshall Denture Clinic serves Marshall and all of east Texas.