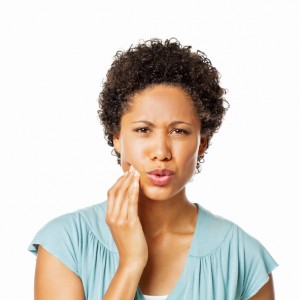 You're having a perfectly normal conversation with your friends and take a sip of water. You're immediately ripped out of the moment as you feel a shooting pain in one of your teeth. This tooth has been feeling more and more sensitive lately, and you think you might have a cavity. You've had them before, but they never hurt this much. What can you do? For people with painful cavities and injured teeth alike, Dr. Charles Parker can use dental crowns in Marshall, TX to relieve your pain in just a few visits. Today, he is going to talk about what they are and how they can help someone just like you.
What Is A Dental Crown?
A dental crown is a type of restoration that simply slips over the top of a damaged/decayed tooth to restore its lost structure. This is why it's sometimes referred to as a "cap." It's able to accomplish a few key things at once: it restores the appearance of the tooth, replaces its lost structure, and relieves any pain or sensitivity it might have. A tooth that has a large cavity or has been broken due to injury often feels pain because the sensitive nerve has become more exposed or even infected. A crown replaces the surrounding structure protecting it so you can have a tooth that is beautiful, functional, and never causes you pain.
A crown can be made of metal, porcelain fused to metal, or entirely of porcelain. Each material has its own advantages, and I'll go over each one when you come to see me.
What Is the Procedure Like?
When you come in to my office and say you're experiencing dental pain, the first thing I'll do is try to find out what is causing it. Like we mentioned before, if you have a cavity or some kind of injury, I'll probably suggest that you get a crown.
Once that has all been decided, I'll begin the process by gently removing the damaged part of your tooth and shaping the rest to fit the crown. I'll then take an impression of your teeth and send it to a local dental lab to fabricate your crown. While it's being made, I'll give you a temporary one to wear. You'll then return to my office where I'll place your final crown securely in your mouth using a bit of dental cement. I'll then make any adjustments if necessary.
After that, your smile should look great and be completely pain free! All you need to do to take care of your crown is brush, floss, and come see me for regular check-ups every 6 months. That should keep it looking like new for up to 10 years!
Have Any Questions?
If you're experiencing constant dental pain, there is a way to get relief. It only takes 2 visits to get a dental crown, and you'll be so happy that you did. Crowns are extremely reliable and one of the best ways to repair a damaged tooth both functionally and aesthetically.
If you have any questions or want to schedule an appointment so we can take care of your dental pain, just give your dentist in Marshall a call today to schedule an appointment.