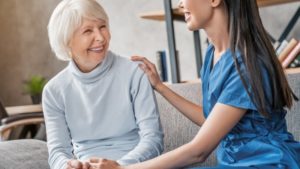 Assisted living facilities can be a wonderful resource for seniors and their family members. By providing help with everyday tasks, such places allow seniors to maintain a degree of independence and let their family members enjoy heightened peace of mind. However, you should not take it for granted that the facility where your loved one resides is taking care of their dental needs. A dentist for seniors in Marshall is here to talk about why routine dental care is so important for those in assisted living and what you can do to help your dear aging family member maintain a healthy smile.
The Importance of Dental Care
There is a common misconception that problems like tooth loss and gum disease are a "normal' part of aging. While such problems are common among older individuals, they are not inevitable. If your loved one still has their natural teeth, they may be able to keep them indefinitely via twice-daily brushing, daily flossing, and a balanced diet. Twice-yearly dental visits are also vital. Such routine care may spare your loved one from pain and help them eat a hearty, nutritious diet well into their twilight years.
On the other hand, if your loved one uses dentures, they may need help to take care of their prosthetic teeth. They will also require regular dental visits to ensure that their dentures continue to fit well year after year. They will thus be able to avoid painful slippage and continue to chew their food with confidence.
Steps You Can Take
Assisted living facilities vary greatly in their approach to different aspects of care. Be sure to ask about how the place where your loved one is views dental health. For example, ask if they provide assistance with cleaning dentures. If your loved one has memory problems, does the staff provide reminders about important tasks like teeth brushing and flossing? Does the facility help their residents schedule and attend dental appointments — or do they have an in-house arrangement for basic dental services? Simply communicating with the facility's staff can do much to keep everyone on the same page and ensure that your loved one gets the help they need.
If the facility's dental services are somewhat limited, you may need to search for a dentist in Marshall who is experienced at working with senior patients. Then, you can take the lead in ensuring that your loved one gets the care their smile deserves.
Do you have a loved one in an assisted living facility? Helping them care for their oral health will enable them to enjoy the best quality of life possible.
Meet the Author
Dr. Charles Parker has 40 years of experience in dentistry. He provides a broad range of dental services for seniors, including preventive cleanings and exams, dentures, denture repair and maintenance, and more. If you have questions or concerns about the dental health of one of your family members who is in assisted living, Dr. Parker would be happy to talk with you. Contact our office at 903-935-6351.