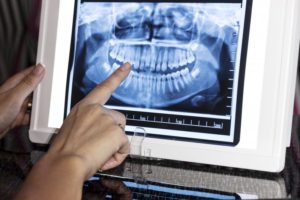 If your mouth is free of pain and you have not noticed any visual signs of a problem with your oral health, you might be surprised when your dentist in Marshall recommends that you get X-Rays taken. You might even hesitate to agree to the dental X-Rays due to concerns about cost or radiation. But there is no need to be worried — X-Rays are extremely safe, and they are often free for individuals with insurance. Most important, they offer some significant oral health benefits. Let's talk about how they can play a role in protecting your smile's well-being.
A Look Below the Surface
Your dentist has a sharp eye for detail; there are many dental issues they can diagnose with a basic visual examination. However, there is only so much they can see with the naked eye. For example, they cannot see into the tight spaces between the teeth or the area beneath the gumline. Routine X-Rays, which are taken once a year for most patients, may allow your dentist to spot problems like cavities and infections in these places before they cause you pain.
Checking on Wisdom Teeth
Many individuals get their wisdom teeth removed during their teenage or young adult years. However, some people retain their third set of molars until much later in life. The wisdom teeth may begin to cause problems unexpectedly, so your dentist will want to keep a close eye on them regardless of your age. X-Rays are necessary for this because wisdom teeth are usually partially or fully stuck beneath the gumline. If there are indications that the teeth are shifting or that they are posing a threat to your oral health, you may need to get them removed as soon as possible.
Getting to Know New Patients
If you have recently moved to a new area, or you are switching to a different "dentist near me" for another reason, your new care provider will be extra thorough during your first checkup and cleaning appointment with them. They may automatically order a full set of X-Rays — even if it has been less than a full year since your set. They do this in order to gain a comprehensive understanding of the state of your teeth before they design a treatment plan to help you improve or maintain your oral health.
Preparing for Treatment
X-Rays are often an important part of preparing for complex dental treatments. For example, they may help your dentist determine whether you have adequate bone density to support dental implants.
Dental X-Rays are a remarkable diagnostic tool! The next time your dentist recommends them for you, you can commit to this simple and noninvasive procedure with confidence.
Meet the Author
Dr. Charles Parker is dentist in Marshall with four decades of experience. He finds great satisfaction in helping patients enjoy improved oral health, whether he accomplishes that through basic services or something as complex as full-mouth reconstruction. X-Rays and other advanced technology play a large role in his practice. To learn more about Dr. Parker and how he may be able to serve you, contact our office at 903-935-6351.