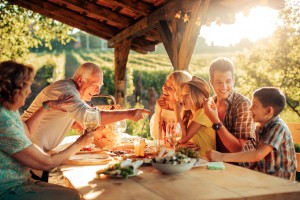 What comes to mind when you think of the holidays? Family, lights, or presents? If you're like many, it's really all about the food. It's one of the few times a year when it's alright to just eat what you want and not worry about it…at least that's supposed to be the case. If you have cheap dentures, it could make eating this holiday season much less enjoyable. Your dentist in Marshall, TX, Dr. Charles Parker, is going to discuss the 4 main pitfalls of cheap dentures, and what you can do about them.
1. Limited Choices
Holiday food typically has a wide variety, and every family does it differently. What makes it special for your family? If you traditionally have turkey or ham for the holidays, both of these foods can be difficult to eat with cheap dentures, because they typically only allow for a fraction of the bite force of natural teeth. Even soft foods like warm, buttery rolls may be problematic because they are too chewy for your dentures. This limits you to items like mashed potatoes, green beans, and yams. They are all delicious, but it still leaves a lot of food practically off-limits to you.
2. Eating Takes Much Longer
I bet you prefer to talk to your family while you eat, yes? Well, expect to be the last one at the table then. Since you have to chew much more slowly and thoroughly, meals can stretch out much longer, allowing everyone to finish way before you do. This puts you in the unenviable position of either eating alone, or having everyone wait on you so they can go for the traditional post-meal nap.
3. Food Has Less Flavor
Traditional dentures typically cover the hard palate of your mouth in order to securely fit. This limits how much you can actually taste everything, which is very depressing when concerning things you only eat once a year.
4. Improper Fit
The cheaper the dentures, the more insecure the fit will be. This not only makes eating more difficult, but speaking as well. Dentures often render people practically mute because they are afraid they are going to fly out of their mouth. They can also be quite uncomfortable, causing irritation to your gums.
What You Can Do About It
"Can the dentist near me give me a better set of dentures?"
Yes! Dr. Parker specializes in providing people high-quality dentures. The right set should fit effortlessly into your mouth, and makes speaking and eating more comfortable than ever. One consultation is all he needs to see which type of dentures would best work for you. He can provide an entire spectrum of devices, from snap-on dentures, all the way to implant supported ones. You use your teeth every day, so if you're going to replace them, it's best to do it in the finest, most individualized way you can.
Have Questions?
So much of the holidays happens at the dinner table, and you often get to see people only at this time of the year. The last thing you should be thinking about are your dentures. If you want to be worry free and fully enjoy the holidays this season, be sure to give us a call today, and we can give you the kind of smile you never have to worry about.