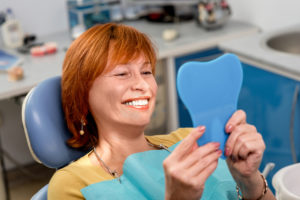 Dentures can be such a blessing. They allow you to eat a wide variety of foods, they give you a beautiful smile and they can give you the confidence you need to fully engage in life, both socially and professionally. With all of this going for you, the importance of properly caring for and maintaining your dentures cannot be overstated. Dr. Charlie Parker and his staff at Marshall Denture Clinic want your dentures to always look their best. Read on to find out more about the important services we provide, which include relining, rebasing and eventual replacement.
Daily Care of Dentures
Taking proper care of your dentures is a team effort between you and Marshall, TX, dentist Dr. Parker. Just like natural teeth, dentures need to be cleaned every day. Be sure to use a soft denture brush in order not to scratch your prosthesis. Likewise, choose a denture cleaner rather than toothpaste that often contains abrasives. Soak your dentures each night in water or a special denture cleaner. Finally, schedule periodic appointments with Dr. Parker so he can examine your dentures for proper fit and integrity.
Relining and Rebasing Dentures in Marshall
When you first receive your new dentures from Marshall dentist Dr. Parker, you can be certain they will fit perfectly. However, over time your gum tissue and the underlying bone structure begin to change. This happens as a consequence of aging and because your jawbone begins to shrink when all of your teeth are missing. Therefore, you should have your dentures relined every one to two years to ensure a proper fit. With relining, Dr. Marshall adds new material to the underside of your denture base so that your prosthesis fits well again.
Rebasing replaces the base but uses the same teeth. If your denture base is cracked, does not fit well, or needs other repairs—but the teeth remain in good condition—then a rebase may be the ideal solution.
The new base will fit more comfortably and extend the life of your dentures.
Replacing Dentures in Shreveport
Eventually, all dentures need replacing. Normally, dentures will last five to 10 years. When your dentures begin to show significant signs of wear or when they fit loosely, then it's time to replace them. Continuing to wear poorly fitting dentures can lead to sores on your gums where the dentures rub, infection and even oral cancer. Therefore, replacing worn dentures is not only a matter of your appearance but your good health, too.
Call Our Office Today
For more information on denture care, or to schedule an appointment with denture expert Dr. Charlie Parker, contact Marshall Denture Clinic. We serve patients in Marshall, TX, Shreveport, LA, and all of east Texas and western Louisiana.