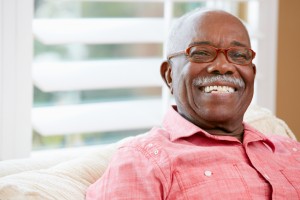 What can you get for under $100? Certain kitchen upgrades, watches, and… your new dentures? It's true. Dr. Parker is excited to offer your beautiful, natural-looking tooth replacement for just $80 per month. You can enjoy a complete smile once again, at a price you are comfortable paying. And we will also provide you with the initial consultation at absolutely no cost to you. Dr. Parker knows too many older patients don't seek the dental care they need, and he wants to make denture care as affordable as possible. We think a free consultation and an easy-to-understand payment plan are a good start.
When Tooth Loss Calls for Dentures
A denture is a set of prosthetic teeth attached to a gum-colored base. It can be full or partial, replacing a complete row of missing teeth or just a few from different parts of the mouth. Dentures are life-like restorations that renew your ability to eat, speak, and smile with total confidence.
For patients who are eligible for dental implants, an implant-retained denture is the best solution to tooth loss. Not everyone is fit for implant dentistry, but those who are should take advantage of its numerous benefits. Dental implants provide unmatched stability for a full or partial denture, and they also promote better oral health by stimulating the jawbone to prevent its disintegration.
A denture that is not retained by dental implants will be held in place with a clasp, suction, or using a denture adhesive. It may take several weeks for the mouth to get used to your new non-implant retained denture, but most patients find they are using their new teeth without a problem after a few weeks of continued use.
An Option for Everyone's Budget
The benefits of tooth replacement with dentures — especially when they are retained by dental implants — are numerous. But too often, older adults face barriers to tooth replacement. Maybe they can't make it to the dentist's office, or they don't realize how important replacing their missing teeth are. The biggest barrier, though, is when they simply can't comfortably afford dentures or their upkeep. That's why Dr. Parker offers free denture consultations and dentures as low as $80 per month.
You can count on a number of denture services from Marshall Denture Clinic. From denture repair to the creation of new dentures, upgrading an existing denture, or performing lock-on dentures, we can meet a variety of needs in our state-of-the-art office.
Dr. Charlie Parker: Simply the Best
Dr. Parker has a wealth of experience providing denture services in Marshall, and he makes use of the latest in technology to provide the ultimate in care. Patients benefit from the use of 3D CT scans, our on-site laboratory, IV sedation, and more. Considering upgrading your smile with dentures at a price you can afford? You can't do better than with Dr. Parker, your dentist in Marshall TX.
Contact our office to make an appointment for you or someone you love today. Schedule a denture consultation on us, and we can discuss all your options in tooth replacement and how the $80 a month plan works.