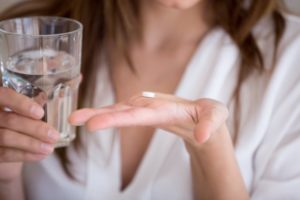 For many years, it was fairly common for dentists to prescribe antibiotics before a tooth extraction in Marshall, TX or any other significant dental procedure. It was thought that the antibiotics were important in preventing an infection of the lining of the heart. In 2012, however, the American Hospital Association released new guidelines that urged a more conservative approach. In this blog post, we'll discuss why antibiotics before a dental treatment are beneficial for only a small minority of patients.
Antibiotics and Infection Prevention
Antibiotic prophylaxis, otherwise known as AP, is the term that describes the practice of prescribing a short course of antibiotics before certain dental and medical procedures. Such procedures might release harmful bacteria into the bloodstream and cause a dangerous infection known as bacteremia. Bacteremia can even lead to infective endocarditis, a condition that can affect the way the heart valves function and increase a patient's risk of heart failure and stroke. AP helps to reduce the amount of bacteria in the body and may lessen the risk of bacteremia.
However, while AP is helpful for some patients, it usually is not necessary. That is because the human immune system is very efficient. In most cases, it can kill harmful bacteria in the bloodstream before it leads to any serious complications. Moreover, antibiotics carry a few risks of their own. For example, some patients have an adverse reaction to them. Overprescribing antibiotics could also contribute to the development of antibiotic-resistant bacteria in the body. Before recommending AP, a dentist in Marshall, TX must carefully weigh both its risks and potential benefits.
Who Needs AP?
In the past, people with almost any kind of heart issue were urged to undergo AP before a tooth extraction or other significant dental procedure. Now, experts in the medical community believe that AP is only necessary for people with certain, specific heart conditions, including:
Cyanotic congenital heart disease
Repaired congenital heart issues that still have residual defects
Prosthetic heart valves
A history of infective endocarditis
A cardiac transplant that has problems in a heart valve
Talk to Your Dentist About AP
If you do not know if AP is right for you, discuss your concerns with your dentist. Be sure they have your updated medical history, including information about your heart health. Feel free to express any concerns or questions you might have. They will be happy to talk to you and help you understand the pros and cons of any course of treatment they recommend. They want you to be a confident, well-informed patient!
About the Author
Almost 40 years have passed since Dr. Charlie Parker earned his DDS from the University of Texas Health Science Center in San Antonio. Throughout the decades, he has stayed up to date with the latest techniques and treatments in his field. Whether he is performing a tooth extraction, dental implant procedure, or any other service, he considers both the oral health and overall well-being of his patients. To learn more about Dr. Parker and his practice, contact our team at 903-935-6351.