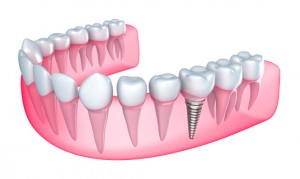 After a consultation and examination with Dr. Charlie Parker, you've decided to have your missing teeth replaced with dental implants in Marshall, TX. You're excited about the prospect of once again having a full smile, but you may also be a little bit nervous about the procedure. After all, oral surgery is involved to embed the implant in your jawbone. To allay your concerns, let's take a look at a few of the reasons why you shouldn't worry.
Dental Implants from Marshall Expert
Dr. Parker has extensive experience in the field of implant dentistry. In fact, other dentists send their most complex implant dentistry cases to Dr. Parker because of his expertise. Whether you need a single implant to replace one missing tooth or several implants to support implant-retained dentures, you can be sure you'll receive individualized attention from Dr. Parker and his staff at Marshall Denture Clinic.
Minimal Discomfort with Dental Implants
Believe it or not, surgically embedding a dental implant in your jawbone is usually far easier than extracting a tooth. Dr. Parker safely anesthetizes the site and surrounding tissue with a local anesthetic, so you won't feel any pain or discomfort during surgery. If you've had a local anesthetic for dental work before, then this should be no different. Nevertheless, if you are concerned about the procedure, speak to Dr. Parker about sedation dentistry. He can prescribe an oral sedative for you to take at a designated time before your surgery so you'll be relaxed and ready when you arrive at the dentist in 75670.
Precision Planning
Before surgery to place your implants, Dr. Parker creates a detailed plan for the procedure. With digital x-rays, Dr. Parker can mark the precise location for your implant(s) and create a surgical guide that he will use during your procedure when he makes an incision and places the implant post.
The Advantages of Dental Implants
Dental implants are far and away the optimal choice for tooth replacement for a number of reasons. First, an implant replaces both the root and crown of a tooth, so you never have to worry about clicking or slipping, which can happen with a partial or a denture. And just like a natural tooth root, your implant stimulates healthy new bone cell growth in your jaw so your facial structure is always supported.
Call Our Office Today
To learn more about dental implants in Marshall, TX, or for some reassuring words from our staff before your scheduled procedure, contact Marshall Denture Clinic. We want to see you smile!