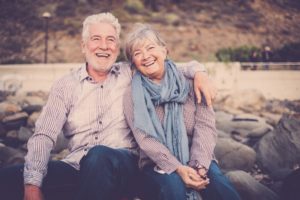 After struggling with your missing teeth for years, you've finally decided to get them replaced. A little research online reveals that most dentists agree that dental implants are by far the best solution, no matter how many teeth someone might be missing. However, you also read that some patients have to undergo a bone graft before they can get this treatment. Why is this the case? How does the procedure work? Will you need it? Read on below to learn the answers to these questions and more about bone grafting in Marshall.
Why is Bone Grafting Necessary?
When a tooth goes missing, the area of the jawbone that used to hold it in place naturally starts to shrink and change shape over time. This is because the body senses that there is no tooth for it to support, so it begins resorbing nutrients to send to other places in the body. As a result, this bone can become quite weak and brittle. If an implant was placed into this kind of jawbone, it would likely fail because it lacked a strong foundation. Bone grafting can help build up the jawbone in areas where dental implants are going to be placed in order to ensure the long-term success of the treatment.
How Does Bone Grafting Work?
The process of bone grafting actually works a bit similarly to how plants grow. Your dentist simply places a grafting material onto the part of the jawbone they want to strengthen, and this encourages new bone growth in the area over the course of a few weeks. The "seed" in this case could be a small bit of bone from another part of the patient's body (usually a bit of the hip), donated tissue, or a lab-made grafting material.
This minor surgery can usually be completed in just one appointment, and thanks to modern-day techniques including local anesthesia and sedation, most people report feeling little to no discomfort during or after the procedure. Once it is completed, a patient will be given a few weeks or months so the bone has time to heal and grow. When the jawbone is ready, then the dentist can place their dental implants with full confidence.
Will I Need a Bone Graft?
Your implant dentist will determine if a bone graft is necessary after giving you a thorough oral exam. They'll take X-rays of your teeth and jaw, and this will let them know if your bone will be able to support implants as is or not. Most of the time, bone grafts are necessary for people who have been missing teeth for a long time or have some type of malformation in the bone.
For many people, getting a bone graft is the first step to them reclaiming their complete smile. If your dentist recommends this procedure, know it will help ensure that your implants will last for many decades to come.
About the Author
Dr. Charles Parker is a longstanding dental implant dentist in Marshall who has served East Texas and Louisiana for more than 30 years. At his practice, he provides all-inclusive  implant care, including placement, restoration, and bone grafts. If you're interested in replacing your missing teeth with the most trusted solution available today, he's ready to help, and he can be contacted through his website for more information.