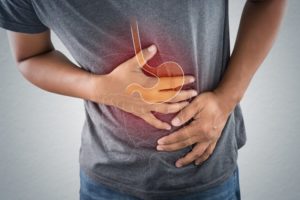 If you're one of the 70 million Americans who suffers from chronic digestive issues, then you probably spend quite a bit of time thinking about your "stomach"…but did you know that these kinds of problems can affect your teeth as well? Surprisingly enough, a gastrointestinal disorder in Marshall can easily cause someone to develop cavities and even oral infections, but thankfully, there are plenty of things you can do to keep your smile protected.
Digestive Issues & Oral Health
When we talk about the digestive system, most people think of the stomach and intestines, but in reality, it actually begins in your mouth. Your ability to chew and break down food is essential to your body being able to digest properly, which is why issues affecting the teeth and gums can often be at the root of persistent GI problems. However, this is a two way street.
For people who suffer from frequent heartburn, the acids in their stomach often flow up into their esophagus. It can even reach the back teeth in some cases, and this acid is strong enough to cause major damage to the enamel over time.
Disorders like Crohn's Disease and ulcerative colitis can also impact oral health. These conditions are usually managed with medication, many of which cause frequent dry mouth. Dry mouth occurs when the body is unable to produce enough saliva, which is your mouth's natural cleaner. As a result, your mouth quickly becomes a more welcoming environment for bacteria, allowing it to more easily grow and potentially cause cavities and gum disease.
What You Can Do About It
Fortunately, keeping your oral health in check despite having a GI disorder is relatively straightforward. In addition to practicing consistent oral hygiene at home and working with your doctor to get the right treatment, you simply need to keep your dentist in the loop. Let them know if you have any digestive problems and if you are taking any medication for them so they can adjust their treatment accordingly.
For patients with heartburn, they may recommend that they use a fluoride-enriched mouthwash every day in order to strengthen their teeth, and they can also repair any teeth that have already been damaged. It's always a good idea to tell your dentist about any medications you are taking as well. If you are experiencing dry mouth, they can give you tips to use at home to keep your mouth adequately hydrated, plus they could have you start using another medicine specifically designed to stimulate saliva production. Basically, one brief conversation with your dentist can save you a lot of oral health headaches in the future!
A Little Care Goes a Long Way
Adding dental problems on top of a GI disorder is something that absolutely no one wants, but by taking care of your teeth at home, working with your doctor, and openly communicating with your dentist, you can make sure that your dental health stays on track and you have one less thing to worry about.
About the Author
Dr. Charles Parker is a general, restorative, and implant dentist in Marshall, TX. For more than 30 years, he has served the people of East Texas and Louisiana, providing a uniquely comprehensive kind of dentistry so that patients can get everything they need in one convenient location. To learn more about protecting your smile from the side-effects of a GI disorder, he can be reached for questions through his website.