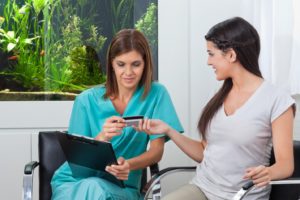 If your dentist recommends that you undergo root canal therapy, a number of thoughts may race through your mind. In particular, you might have some concerns about the price of the procedure. Will it be expensive, or is it a smart investment in your oral health? Let's talk about some factors that influence root canal cost in Marshall and discuss why this treatment is a wise use of funds.
Factors that Influence Cost
There is no set price for root canal therapy. Different dentists may have different pricing structures, which depend on things like the doctor's experience, the location of their office, and more.
The specifics of your case can also have a bearing on cost. For example, teeth that are toward the front of the mouth tend to be easier to treat because they only have one root. If a molar is being treated, the procedure is more complex and may come with a higher cost.
The severity of the infection in your tooth has a bearing on price as well. Minor infections require less work for your dentist, which means that the total price will be less than if extensive damage has occurred. (To save money, you should seek care as soon as possible, rather than waiting and giving an infection the opportunity to worsen.)
When you visit your dentist for a consultation, they will assess the situation before giving you a price quote. If you have any questions about the price of the procedure, feel free to ask — your dental team wants you to make well-informed decisions about your care.
Is Root Canal Therapy Worth It?
Often, extracting an infected tooth is as effective at treating an infection as root canal therapy. Plus, an extraction costs less upfront. However, it is important to consider the long-term outlook of your treatment options.
Root canal therapy is usually successful the first time around. It can allow your damaged tooth to remain in your mouth and provide you with reliable function for many years to come. In fact, a successful root canal is a restorative procedure that could preserve your tooth for the rest of your life.
If you choose to extract an infected tooth, you should get it replaced as soon as possible to prevent bite problems, dental drift, and other issues. The price of an extraction, combined with the cost of filling in the empty space that it leaves behind, can cost much more than root canal therapy, particularly if you choose a premium form of tooth replacement, such as a dental implant.
Root canal therapy can cost a significant amount of money, but this procedure delivers outstanding value for your long-term oral health. It is worth the price!
Meet the Dentist
Dr. Charles Parker is a general dentist with more than 40 years of experience in his field. He offers root canal therapy and a range of other restorative procedures. Our practice charges fair prices, and we do all we can to help patients afford treatment. To learn more about us and how we may be able to serve you, contact us at 903-935-6351.