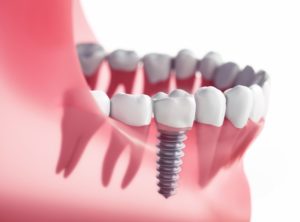 If you get implant dentures in Marshall, you'll quickly get used to being able to chew, smile and talk without fear of your false teeth slipping. However, despite the high success rate of dental implants, they're not risk-free. If an infection develops around the implant posts, you could be in for a lot of pain – and you may even lose your new smile altogether.
How Do Dental Implants Become Infected?
Even when your natural teeth are gone, your gums can still become infected. There are certain health conditions and lifestyle choices that can make these infections more likely, such as:
Smoking: Smoking introduces a lot of new bacteria into your mouth, and nicotine makes it harder for sores and cuts in your mouth to heal themselves.
Diabetes and Autoimmune Diseases: Any condition that weakens your immune system or affects the body's ability to heal itself will leave you more vulnerable to infections in general.
Poor Oral Hygiene: Just like your teeth, your gums need to be thoroughly cleaned every day. If you don't brush and clean your dentures – or if you skip out on regular checkups at the dentist – you could be at a higher risk of infected gums.
Allergies: If you have an allergy that dries out your mouth, you could be at a higher risk of gum infection. This is because the main purpose of saliva is to wash away harmful bacteria; a dry mouth means fewer chances for said bacteria to be cleaned off the gums.
When the area around your dental implants becomes infected, it's a condition known as peri-implantitis.
What if You Don't Treat an Infection Around Dental Implants?
If you want to keep your new teeth, you shouldn't leave an infection around your implant dentures untreated in Marshall. Infected gums can eventually lead to bone loss in the jaw; in other words, the jawbone starts to break down. Dental implants need a certain level of bone to support them, so when the bone they're joined to is destroyed, they're much more likely to fail. You can hopefully avoid this outcome by having an infection treated as soon as possible.
What Should You Do If There's an Infection Around Your Implants?
Inflamed gums, bad breath, problems with chewing, fever, bleeding of the gums, loose implants and constant pain are all potential symptoms of a gum infection; call your dentist as soon as possible if you notice these issues. The treatment you receive will vary depending on the severity of the problem; mild infections can be treated with mouth rinses or antibiotics, but in major cases, surgery or laser therapy might be necessary.
Implant dentures are a long-term investment in a comfortable, powerful and attractive smile. Be on the lookout for potential issues so that you can protect your investment.
About the Author
Dr. Charles A. Parker has been serving patients at his practice, Marshall Denture Clinic, since 1981. He's happy to take on cases that other dentists would find too complex to treat. With as few as four dental implants, he can give his patients dentures with stability and chewing power comparable to natural teeth. To schedule an appointment, visit his website or call (903) 935-6351.