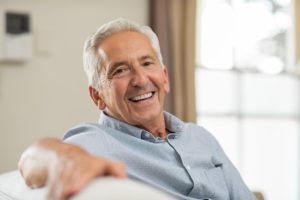 If you've experienced serious jawbone loss, it's likely you've been told that traditional dental implants are not possible. The reason is that strong bone is required in order for your implants to be surgically placed onto a solid foundation. When this area is weak or deteriorated, it can cause implant failure. Fortunately, there is another solution to restore hope and smiles in patients with significant bone loss – implant removable dentures in Marshall. Learn more about this unique treatment and how it can help you.
What Are Implant-Retained Removable Dentures?
Implant-retained removable dentures are also known as "overdentures" and are designed to provide a patient with a fuller facial appearance while preventing additional bone and tissue loss caused by missing teeth.
They are made in a way that provides patients with greater stability and functionality, improving how a person speaks, eats, and chews. This is especially true for individuals who have worn dentures and are now being treated with overdentures.
How Can They Help Patients With Serious Bone Loss?
Missing teeth can wreak havoc on your oral health and facial appearance. Without something to stimulate the jawbone, your face can begin to sag or "collapse." Traditional dentures might replicate the look of your smile, but underneath, there is nothing to keep the jawbone strong. However, with implant-retained removable dentures, all of that changes.
Although they look like a traditional denture, which is created using a gum-colored base and artificial teeth that mimic the look of your natural smile, dental implants are surgically placed in strategic areas of the jawline where the bone is stronger. This is important because the implants need something sturdy and durable to hold them up. Once the implants are put into place, the denture then connects to the implants, creating a beautiful smile.
Since these tooth replacement solutions are removable, it is much easier to keep your restoration as well as your gums healthy. By continuing to practice good oral hygiene by brushing and cleaning your soft tissues, and your implant dentures, you reduce your chances of developing gum disease or additional bone loss.
If you've been told your jawbone is too weak for implants, don't give up hope. Talk to your dentist today about implant-retained removable dentures. Before you know it, you'll be enjoying a restored smile that improves your confidence and can last decades or longer with proper care and maintenance.
About the Author
Dr. Charlie Parker, DDS, received his undergraduate degree from Baylor University in Waco before completing his DDS degree from the University of Texas Health Science Center in San Antonio. With implant-retained removable dentures, Dr. Parker can restore your smile even when you thought it was impossible. For patients with serious bone loss, this tooth replacement solution can replace missing teeth and improve confidence levels like never before. To find out how we can help you, visit our website or call (903) 935-6351.