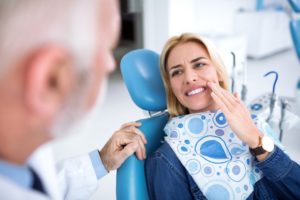 You're moving along through life with a new and improved smile. Thanks to implant-retained dentures in Marshall, you can feel confident about the way you eat, chew, smile, and talk, but suddenly, you begin to notice a pain in your mouth. Unsure of the cause, you make an appointment with your dentist who discloses you have an infection. This type of news can be disheartening, but depending on the severity of the problem, your dentist may be able to save it and prevent the infection from spreading. Should you find yourself in this type of situation, here are a few reasons why an implant can become infected and what you should do if it occurs.
How Does an Implant Become Infected?
When an infection is present, this usually means a form of gum disease known as peri-implantitis has developed around the implant. To determine how the problem started, it is best to understand what types of lifestyle habits and health-related conditions can cause infection:
Smoking
Diabetes
The autoimmune system is compromised
Bite misalignment
Poor oral hygiene
Bruxism
Allergic reaction
Patients who choose to leave the problem area untreated can experience bone loss or implant failure. However, for individuals who don't want to see their tooth replacement solution turn into a wasted investment, there are ways to tell if there is an implant denture infection in Marshall:
Red, puffy gums
Bad breath
Difficulty chewing
Fever
Bleeding around the implant while brushing
Loose implant
Throbbing pain
What Should You Do If an Infection Occurs?
If you notice any of the above-mentioned signs or symptoms, the first step is to call your dentist and schedule an appointment as soon as possible. Explaining the situation to the dental team will alert them of the urgency so you can get in and receive treatment quickly.
Once you arrive, your dentist will perform a thorough exam to diagnose peri-implantitis. Much of what happens next depends on the severity of the infection. For mild cases, he might have you use a prescribed mouth rinse or antibiotics to put your oral health back on track. If the infected implant is experiencing a more aggressive form of peri-implantitis, it might be necessary to undergo surgery, laser therapy or complete removal of the implant-retained denture.
This form of gum disease can cause serious damage not only to your mouth but also to your body. If the infection reaches the bloodstream, it can wreak havoc on your heart and bodily organs. Bacterial infections can develop and problems with your overall health will begin to appear.
Your implant-retained dentures should be a worthy investment and one of the main reasons you should discuss your oral and overall medical history with your dentist prior to receiving this tooth replacement solution. If after you've received your implant an infection occurs, don't waste any time in seeking treatment. Your dentist can serve as the first line of defense in saving your implant and your smile.
About the Author
Dr. Charlie Parker, DDS, received his undergraduate degree from Baylor University in Waco before completing his DDS degree from the University of Texas Health Science Center in San Antonio. When it comes to replacing a patient's teeth with implant-retained dentures, he strives to exceed the expectations of everyone looking to achieve a healthy, beautiful smile. To find out how we can help you, visit our website or call (903) 935-6351.