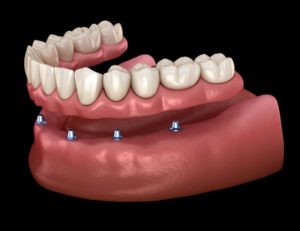 If you have had your dentures for a while now, you know that they can be both a blessing and a curse. You appreciate their natural appearance and the fact that they enable you to eat a wide variety of foods. However, you might also live in fear that they will slip out of place while you are eating or speaking, leading to embarrassment and discomfort. If you are ready to bid farewell to the inconveniences of a traditional dental prosthetic, implant-retained dentures in Marshall may be your ideal solution.
What Are Implant-Retained Dentures?
Dental implants are small, screw-like devices that get inserted into the jawbone during a minimally invasive surgery. They serve as anchors for prosthetic teeth. The number of implants required to support dentures varies from patient to patient.
There are a few different types of implant-retained dentures. There are Snap-On overdentures, which attach to dental implants via small connector pieces and are easy to remove. There are also types of implant dentures that are permanently fixed in the mouth.
What to Expect with Implant-Retained Dentures
Getting implant-retained dentures requires a significant investment of time and money. It is only natural to wonder if they will really make a big difference in the way your prosthetic teeth feel and function. They will! Here are some of the key advantages they have over their traditional counterparts:
Because they rely on dental implants instead of adhesive or natural suction, implant-retained dentures are extremely sturdy. Embarrassing slips can become a thing of the most.
Dental implants are anchored in the jawbone, so they provide a stronger bite force than traditional prosthetics. You will have to take fewer precautions when you are enjoying hearty or tough foods.
Traditional dentures must be periodically relined (adjusted) due to changes in the bone that supports them. Since dental implants stimulate the jawbone, they help it to retain its shape and therefore ensure that your dentures will fit well for many years.
Implant-retained dentures are often smaller — and therefore more comfortable — than non-implant dentures.
Are Implant-Retained Dentures Right for Me?
Most patients who are tired of their traditional dentures are eligible to benefit from dental implants. As long as you are free of active gum disease and have adequate bone density in your jaw to accommodate the implants, it is likely that your dentist will give you the go-ahead for the procedure. It will also be helpful if you do not smoke, since smoking can interfere with your postoperative healing process.
Implant-retained dentures are a big step up over their traditional counterparts! Your local implant dentist will be happy to help you discover how this remarkable treatment may benefit you.
About the Author
Dr. Charlie Parker has served as a general dentist in Marshall for nearly 40 years. He has extensive experience with dental implants and approaches each case with precision and personalized care. To learn how Dr. Parker may be able to free you from the inconveniences of traditional dentures via dental implants, contact our practice at 903-935-6351.