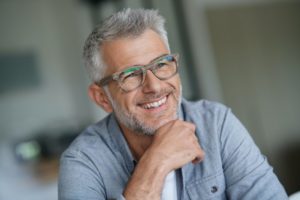 June is Men's Health Month in Marshall; it's a time for boys and men to become more aware of preventable health problems and learn the importance of detecting potential health issues early. Your mouth is one area where preventive care is particularly key. Whether you're a man or simply have one in your life, here's what you need to know about why those biannual dental visits are so important.
How Well Do Men Usually Take Care of Their Mouths?
On average, men tend to be less likely to take care of their mouths than women. According to the American Dental Association, 49% of all men do not brush their teeth at least twice a day, and they're less likely than women to have visited a dentist within the past year. As a result, men are more likely to have cavities and other oral health issues that go untreated until it's too late.
What Oral Health Problems Do Men Need to Be Aware Of?
In many cases, you may be tempted to ignore oral pains and other oddities, but this can be a mistake; they can be the sign of a larger underlying problem. In fact, the majority of systemic diseases have oral manifestations of some kind. Some potentially serious symptoms can include:
Jaw pain: If your jaw hurts, particularly while chewing or opening your mouth wide, it can be a sign of a TMJ disorder, which can cause issues such as lockjaw or hearing loss. Such pains can also be a sign of rheumatoid arthritis. Your dentist in Marshall can help locate the source of the discomfort.
Dry mouth: Not only can dry mouth make your teeth more vulnerable to decay, but it may also be a warning sign of diabetes, Parkinson's Disease, anemia, or hypertension. Check any medications you're taking; dry mouth can often be a side effect.
Eroded enamel: Your teeth may be worn down from acid reflux, which is also a cause of heartburn. Acid reflux may be related to esophageal cancer.
Discolored gums: Red, swollen gums can be a sign of gum disease; if left untreated, it can lead to tooth loss. A change of color in the gums can also be a result of a fungal infection, or it could be a warning for oral cancer.
In many cases, recognizing the warning signs of a potential health problem early can help make a successful treatment more likely. For this reason, it's important for men to have regular dental appointments in order to receive thorough preventive checkups.
Good oral health is an important component of good health overall. Make sure you're brushing after every meal, and don't forget to floss daily. A little extra care now can save you a lot of trouble in the future!
About the Author
Dr. Charles A. Parker treats patients from a wide range of areas; he received his DDS from the University of Texas Health Science Center in San Antonio. In addition to regular checkups and cleanings, he also provides dental sealants and fluoride supplements to provide extra protection from cavities. To schedule an appointment at his practice, the Marshall Denture Clinic, visit his website or call (903) 935-6351.