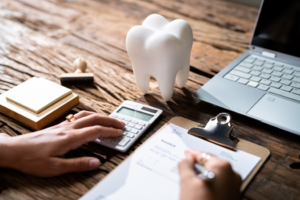 It's estimated that every year, dental insurance policy holders lose roughly 100 billion dollars in unused benefits, which is a staggering amount of lost money! But what's worse than all of that wasted cash is the state that it leaves many people's smiles in—dental insurance is an important part of maintaining a flourishing, confidence-inspiring grin. Continue reading to learn about 3 ways you can easily make the most of your dental insurance and ensure that your smile isn't just happy—your wallet is, too!
1. Attend Your Routine Dental Checkups
There is perhaps no better way to take advantage of your dental insurance benefits than by actually visiting the dentist! Prevention is key when it comes to maintaining a healthy smile; regular dental visits allow your dentist to detect potential issues before they have the chance to worsen and become more expensive (and frustrating) to treat. Because of this, routine preventive care is often covered by most insurance plans, which includes things like cleanings, exams, and X-rays. You should make the absolute most of these benefits by scheduling two dental checkups a year!
2. Know the Details of Your Plan
You'll want to stay informed about your dental insurance policy; these plans tend to have a lot of language and terms that aren't always easy to decipher, so you'll want to read things over carefully and ask your dentist's team for assistance when necessary (they're happy to help explain things). Try to familiarize yourself with the details of your policy, including deductibles, copays, annual maximums, and what services are covered. Knowing these specifics will help you make informed decisions about your dental care. That said, don't let financial implications prevent you from seeking oral care when you need it—it's always going to be money well spent!
3. Plan Ahead for Major Procedures
Some dental treatments take multiple visits to complete: for example, crowns, implants, and more. The costs of these visits can quickly add up, but there are things you can to do make things easier, such as scheduling dental work strategically. By starting the process before the year ends, you can maximize your current year's benefits and possibly save on future out-of-pocket expenses by taking advantage of two annual maximums, rather than just one. Similarly, don't wait to complete any outstanding treatments before they have the chance to worsen into more expensive problems; plan these accordingly!
By scheduling and attending regular checkups, completing outstanding treatments and planning others strategically, and understanding the intricate details of your coverage, you can easily ensure that your smile remains healthy and bright while minimizing your out-of-pocket expenses!
About the Author
The talented team at the Marshall Denture Clinic has proudly served families in the Marshall, TX community for several years under the leadership of Dr. Charles A. Parker! Dr. Parker received his DDS from the University of Texas Health Science Center in San Antonio and is an active member of the renowned American Dental Association. If you have any questions about the blog or you'd like to schedule a visit before the year ends, don't hesitate to contact his team online or over the phone for assistance: (903) 471-3172.