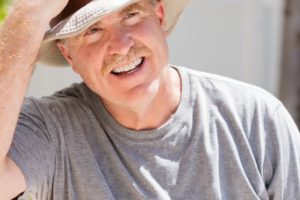 Missing teeth are a problem faced by over 120 million Americans, and many of them can be found in Texarkana. You know what you won't find there, however? An experienced dentist who can help fill in the gaps in people's smiles using the most state-of-the-art solution available today: dental implants. That's why, for over 30 years, patients from all over east Texas and Louisiana have made the short drive to the Marshall Denture Clinic. Here, Dr. Charles Parker provides all-inclusive dental implants for Texarkana smiles, helping patients regain their ability to eat and speak with complete confidence. What makes people hop in their car to see Dr. Parker? Read on to learn more.
"The one thing they can't teach is…"
…experience!
Dr. Parker has been practicing dentistry and using implants since the early 80's, and his decades of experience have enabled him to handle many cases that other dentists have deemed too complex. Patients from Texarkana have come to rely on Dr. Parker over the years because he's always able to deliver customized solutions that help restore the smile for a lifetime. Whether a patient is missing a single tooth or an entire mouthful, Dr. Parker welcomes them with open arms because he knows he'll be able to provide exactly what they need.
State-of-the-Art Care From Beginning to End
While most other general dental offices will refer patients to an oral surgeon for implant placement, Dr. Parker is capable of handling the entire procedure himself. This way, a person is able to stay with the same doctor and team that they trust, leading to a smoother and more stress-free process overall.
In order to place his implants as accurately and effectively as possible, Dr. Parker utilizes the NobelGuide system, which uses highly-powered software to generate a 3D model of a patient's jaw. With it, he can determine the best locations for a patient's implants and even create a detailed surgical guide, so on the day of the procedure, success is practically guaranteed. This gives him more control over the entire process in order to ensure the best possible outcome in the least amount of time.
Denture Specialist
Most people with dentures have to deal with problems every day, whether their prosthetic is uncomfortable or constantly moving around in their mouth. Dr. Parker has dedicated a large part of his practice to fixing these kinds of issues by providing truly custom-made implant-supported dentures.
He's able to retrofit many traditional dentures to simply fit over implants, or he can create a completely new prosthetic for a patient as well. In any case, he can give his denture patients a set of teeth that looks natural, stays in place, and gives them a bite much more reliable than their old one. He's also always available for follow-ups to ensure that his dentures maintain their day one look and fit for many years to come.
Come Get Your New Smile Texarkana!
If missing teeth are making your life a little less enjoyable every day, then Dr. Parker is ready to give you the lifetime solution you need. He's just a short drive away, and as you'll soon agree with your friends and neighbors who have already come to see him, he's certainly worth it!
To make it even easier for you to come see us, we're offering a FREE implant consultation for your first visit! To schedule one and start rebuilding your smile today, click here.