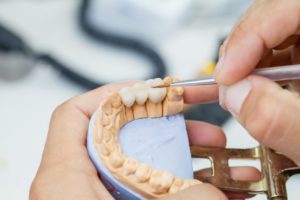 If you have missing teeth, it is important that you replace them. Filling in those gaps will increase your chewing power and help to prevent future dental problems. It may even give your confidence a boost! Once you decide to replace your teeth, though, you still have to decide how to replace them. Partial dentures and dental bridges are two popular options. In this post, we discuss both treatments and give you guidance on which one may be best for your circumstances.
What Are Partial Dentures?
A partial denture is a removable prosthetic that is designed to fit in around the remaining natural teeth. It can replace multiple teeth in a row, or it can replace multiple teeth at different places throughout a dental arch. It consists of a gum-colored base, artificial teeth (usually made of acrylic or porcelain), and small attachments that help it remain secure in the mouth. Partial dentures are usually fairly affordable. They can also provide pleasing aesthetics if they are well-made and well-fitted.
What Is a Bridge?
There are a few different types of dental bridges, but a traditional bridge is the most common. This type of prosthetic, sometimes called a fixed bridge, is not removable. It has crowns on each end, which get permanently attached to the teeth on either side of the empty space (the abutment teeth). The crowns support between one and three artificial teeth between them. Another type of bridge is a cantilever bridge, which is used when only one abutment tooth is available.
The security and stability of dental bridges appeals to many patients. Also, since dental bridges do not require any attachments to keep them in place, they can provide a more natural appearance than a denture.
Is One Better than the Other?
There is no clear winner in the battle of partial dentures vs bridge; one treatment is not necessarily "better" than the other. However, one may be better for you. A partial denture may be perfect if:
You are missing teeth at different places throughout a dental arch
You are concerned about the cost of restorative dentistry
Your abutment teeth are not healthy enough to support a dental bridge
On the other hand, a bridge might be ideal for you if:
You would like a prosthetic with the potential to last for 10 – 15 years or longer
You have aesthetics as a top concern
You want to regain as much chewing power as possible
After your dentist examines your mouth and analyzes your level of tooth loss, they can recommend the type of prosthetic that they believe would best serve your needs. You may be just a few dental appointments away from once again having a complete set of teeth!
About the Author
Dr. Charles Parker is a general dentist in Marshall who focuses on helping his patients regain full dental function via various types of prosthetics. He offers bridges, dentures, and implant-supported tooth replacement options. If you would like to learn more about how he can help you rebuild your lost dentition, contact Marshall Denture Clinic at 903-935-6351.