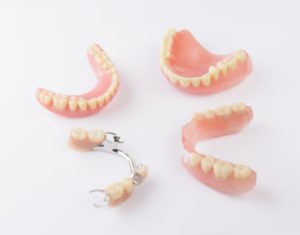 It goes without saying that if you've lost multiple teeth, you'll have a harder time chewing certain foods and talking so that other people understand you. You'll need to find a replacement as soon as you can, and in many cases, that means getting dentures. But did you know that there are different kinds of dentures? Read on to learn more about the difference between partial dentures and full dentures in Marshall – and which kind you might need to fully restore your smile.
Full Dentures: Replacing an Entire Arch of Teeth
If for whatever reason all the teeth in a single row have been lost, you'll need full dentures. The false teeth rest on a base made out of gum-colored acrylic. The shape of this base depends on which arch is being replaced. A denture for the upper jaw will cover the roof of the mouth and is anchored in place by a thin layer of saliva. On the other hand, a denture for the lower jaw is shaped so that it leaves space for the tongue and relies on your cheek muscles to stay in place. Either kind of restoration can also be secured by a special adhesive if need be; however, they'll be customized to fit as snugly as possible, so such adhesive normally shouldn't be necessary.
Partial Dentures: Filling in the Gaps in Your Smile
As you can probably tell from the name, partial dentures are designed to only replace a few teeth in a single row. In addition to a gum-colored acrylic base and lifelike prosthetic teeth, they also have small metal clasps to hold them in your mouth. Since each patient will be missing teeth in different spots, partial dentures will be uniquely designed so that they can fit in the mouth.
What are the Similarities and Differences Between Full Dentures and Partial Dentures?
Naturally, since they're both meant as a solution for empty space in your mouth, there are a few similarities between full dentures and partial dentures in Marshall. They'll both improve your ability to pronounce certain words, chew a variety of meals, and smile with confidence. Furthermore, depending on the state of your jaw, both restorations can be supported by dental implants.
Of course, the difference between them is the extent of the tooth loss they're meant to correct. Partial dentures can be used to replace a single tooth or even several teeth, but full dentures won't be recommended unless most of an arch is gone. You can also expect each appliance to carry a different cost.
No matter which kind of denture you get, it's always best to see your dentist to have it made and placed in your mouth as soon as possible. The less time you spend without a full set of teeth, the better the quality of your life will be!
About the Author
Having practiced dentistry in Marshall since 1981, Dr. Charles A. Parker cares about all his patients and works with each of them one-on-one in order to exceed their expectations. He offers high-quality full dentures and partial dentures, and he's an expert in combining them with dental implants to fully reconstruct smiles. To schedule a free dentures consultation at his practice, Marshall Denture Clinic, visit his website or call (903) 935-6351.