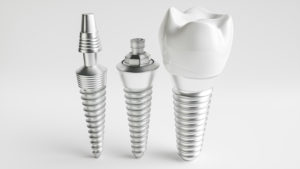 You love the idea of getting dental implants, but maybe you're nervous about the road ahead of you. That feeling is totally natural! The idea of having a small metal post inserted into your bone can be intimidating. But don't worry. The process is easier than most people anticipate. Let's take a moment to talk about what you can expect regarding the process and recovery time with the dental implant procedure.
Things to Keep in Mind
Remember that because every patient is unique, every dental implant procedure is unique. However, here are a few general notes to give you an idea of what you are likely to experience:
Your dentist is deeply concerned about your comfort. Anesthesia and sedation can ensure that you feel little to nothing during your placement surgery.
Some discomfort and swelling are quite normal after the placement surgery. Pain medications can help you to cope.
Many patients are able to return to work within a day or two of their surgery.
As long as you are diligent about following postoperative instructions, the risk of complications is very low.
Implant Recovery Guidelines
Here are some basic guidelines you should follow after your surgery to promote healing:
Do not blow your nose. If you sneeze, do so with your mouth open.
Do not smoke. Smoking, particularly if it is within a week or two of your surgery, can drastically reduce your body's ability to bond properly with your implant.
Don't drink liquids through a straw. The suction action can negatively affect the surgical site.
Stick to a soft diet, and don't eat or drink anything that is extremely hot.
Apply a cold compress to the side of your face to help manage swelling.
How Long Will Recovery Take?
Within just a couple of weeks, you should be able to resume eating most foods — just be careful not to eat anything that's super hard or crunchy. While you may feel like your normal self relatively quickly, keep in mind that your bone will take much longer to heal than the soft tissues in your mouth. Depending on how quickly your body works, it may be several months (perhaps 6 – 9) before the jaw has recovered and has established a strong bond with your dental implant.
What Happens After the Bone Is Healed?
After your dentist determines that your jaw has adequately recovered from the placement surgery, you might undergo another minor procedure, wherein an abutment (a small connector piece) will be attached to the top of your implant. After a short recovery period, your final restoration (for example, a crown or bridge) will be affixed to the abutment. Then, you can go off and enjoy your beautifully restored smile!
The dental implant process may seem like it takes a long time, but the reward is worth the wait! Your local implant dentist will be happy to help you determine whether this life-changing procedure is a fit for you.
About the Author
Dr. Charles Parker is a general and restorative dentist in Marshall with nearly 40 years of experience in his field. He has extensive training and experience with dental implants. If you would like to learn more about Dr. Parker and how he may be able to help you regain your lost teeth, contact our team at 903-935-6351.