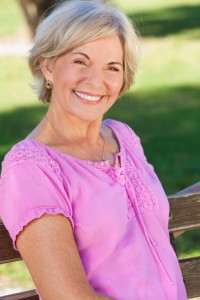 If you'd like to bite into a juicy steak or apple but fear for your ill-fitting denture, we've got good news for you. Snap-on dentures provide the stability you need to resume eating, speaking and smiling with confidence! They're a type of overdenture that fits securely on top of your natural teeth or over dental implants, and you can find snap-on dentures right here in East Texas, from your trusted prosthodontist Dr. Charlie Parker.
What Is a Snap-On Denture?
A snap-on denture is a prosthetic device that provides a sturdy replacement for several or a whole row of missing teeth. It works by either fitting in with the existing natural teeth like a missing puzzle piece, and/or attaching securely onto dental implants. This method eliminates the problems frequently associated with non-implant supported dentures, including stress, difficulty eating and the development of painful oral sores.
Is a Snap-On Denture Right for Me?
When you're evaluating your options in tooth replacement, it helps to remember the benefits associated with dental implants. These small posts act as prosthetic tooth roots for the replacement that sits on top, an important feature that provides unsurpassed stability and also encourages a healthy jawbone.
When supported by dental implants, a snap-on denture is associated with a number of advantages over other non-implant supported options. Some of these include:
The restored ability to eat, speak and smile without the worry that your denture will slide around or fall out.
Better jawbone health due to the stimulation provided by prosthetic roots
A fuller, more youthful appearance
Freedom from bothersome denture adhesives
Snap-on dentures are completely stable when in use, but they are also removable for easier cleaning and care.
How Do I Take Care of My Snap-On Denture?
Once you've had your smile completed with a beautiful snap-on denture, you'll want to make sure you're taking excellent care of the device to continue enjoying its benefits for a lifetime to come.
Because the snap-on denture is removable, you will take it out for frequent cleaning. While you can't get cavities on prosthetic teeth, the same plaque and bacteria that cause bad breath and gum disease are still a threat — so make sure you're brushing your denture as recommended to keep them clean and the rest of your mouth healthy.
You should brush your denture at least once a day, and then leave them to soak while you're asleep. Remove plaque and food particles from the denture with a gentle brush and denture cleanser or hand soap for the very best clean (many toothpastes can be too abrasive for the soft denture material).
Want to Learn More?
If you'd like to find out more about snap-on dentures, please call Marshall Dental Clinic for your free consultation! Our Marshall general dentistry practice treats patients from Texarkana, Shreveport, Longview, Nacogdoches, Carthage, Tyler and the surrounding areas.