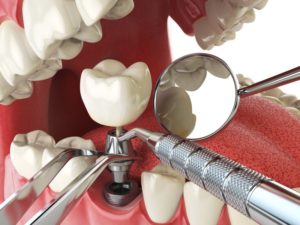 Modern-day dental implants were first introduced to the world back in the 1980's, and now, it's estimated that over 3 million people in the U.S. have used them to replace their missing teeth. Dental implants involve positioning a small titanium post within the jawbone to recreate the root structure of a lost tooth, and a big reason for their growth in popularity is that the technology used to place them has made the procedure less invasive and more effective over the ensuing decades. Today, we're going to discuss some of the state-of-the-art tools that are used for dental implant placement in Marshall.
Intraoral Cameras
In the past, the only way a dentist could see inside of a patient's mouth was by using a very bright light! Now, a small instrument, no bigger than a pen, that is tipped with a camera can capture close-up, high-resolution images of the teeth and gums that can be instantly displayed on a large chairside monitor. When putting together an implant treatment plan, this initial step helps a dentist begin to gather information so they can figure out the best approach for a particular patient.
Digital X-Rays
Digital X-rays enable dentists to examine the jawbone to see if it is able to securely hold implants or requires a bone graft. Compared to traditional X-rays, digital X-rays are not only much faster, but they emit up to 80% less radiation as well.
CT Scan
Many dental offices now have a device that can create a 3D X-ray image of a patient's teeth, jaw, and surrounding oral structures. This kind of image provides them with much more information than a traditional X-ray, and dentists use it to find the perfect location within the jawbone to place an implant. It also reveals the location of sensitive nerves within the jaw, which the dentist can then avoid to reduce post-treatment pain.
NobelGuide
This is a system that creates an acrylic frame that fits into a patient's mouth, and it's used to guide the placement of implants. Rather than simply doing the procedure freehanded, the NobelGuide establishes a very firm and defined path for the dentist to follow so that an implant has the correct depth and angle.
Anesthetic
Some people are surprised to know that implant placement is usually performed while a patient is conscious, only using local anesthetic. Modern anesthetics are powerful enough that most implant patients report feeling very little discomfort during or after the procedure.
Sedation
For patients who are nervous about implant placement, dentists can help them feel nice and relaxed using oral conscious sedation. A patient is prescribed a pill to take about an hour before the procedure, so by the time it actually begins, they will be extremely mentally and physically relaxed.
Altogether, this technology is a big reason why dental implants have a 95% success rate and can be trusted to last for more than 30 years. When it's used by an experienced implant dentist, patients can look forward to a smooth and easy journey to rebuilding their smile.
About the Author
Dr. Charles Parker is a dentist in Marshall with nearly 40 years of experience placing and restoring implants. He's constantly updating his practice with the latest technology and attending continuing education courses so he can stay on top of the latest advancements. If you're interested in having your missing teeth replaced with dental implants, you can get more information by contacting Dr. Parker through his website.